See How Much Money We Can Save You!
Credit Counseling and Debt Consolidation in Vermont
Clients We've helped in Vermont
A Shelburne, Vermont client saved an estimated $8,247.78
A Manchester Center, Vermont client saved an estimated $668.33
A Stockbridge, Vermont client saved an estimated $11,106.56
A Florence, Vermont client saved an estimated $28,846.61
A Brattleboro, Vermont client saved an estimated $3,102.87
A Saint Albans, Vermont client saved an estimated $12,465.72
A Winooski, Vermont client saved an estimated $44,987.91
A West Topsham, Vermont client saved an estimated $4,307.02
A East Concord, Vermont client saved an estimated $2,800.93
A Morrisville, Vermont client saved an estimated $5,338.90
We can help you get out of debt in Vermont. Call us at 1-800-589-1643 to find out how!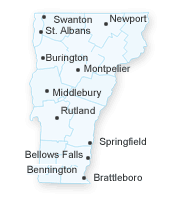 Stay Afloat with Vermont Credit Counseling
Just because you're in debt doesn't mean you'll always be in debt. Even though it feels like you'll never get out from under your bills, we've got the surefire strategies and educational resources to get you on top. We completely understand if you're feeling overwhelmed. Not being able to pay the bills is enough to get any of us stressed out.
At CreditGUARD of America, Inc., we've been helping people stay on top of their bills and assisting them with attaining financial stability for many years. With our experienced and caring financial counselors, you can expect results. When it comes to reducing debt and implementing everyday strategies for financial success, we are the experts to look to for assistance.
One-On-One Attention with Vermont Debt Consolidation
We've helped people from all walks of life with all amounts of debt get debt-free. Even if you're facing a tremendous amount of debt, our financial counselors can help. From debt consolidation programs to money management, we offer counseling for all of the services for debt resolution. Your financial counselor will work with you one-on-one and review all of your outstanding debt, including personal loans, car loans, mortgage payments, credit card debt, and school loans. Using a debt analyzer, we will determine your debt-to-income ratio. With that ratio, we can help you choose a plan that works best for your financial situation.
If we determine that a debt consolidation program will provide payments you can afford, you can have your unsecured debts lumped into one easy payment. You would send the payment to us, and we would disburse the payments to your creditors. Debt consolidation programs work well for lots of people, and many people are able to pay off their creditors in just a few years.
Recapture Your Life Back Today
If you're interested in debt consolidation in Vermont, be sure to call us at 1-800-589-1643. You're never under any obligation, and we never use any pressurized sales tactics. Our staff is always happy to discuss your circumstances and answer any questions you may have. You can trust that we will find a solution that will be a perfect fit for your unique needs. From financing counseling to specific plans like debt consolidation and assistance with home equity loans, we offer it all.
Vermont Statistics
| | |
| --- | --- |
| Average Vermont persons per household | 2.30 |
| Average Vermont client age | 43 |
| Average Vermont client annual income | $28,910.04 |
| Average Vermont client annual expenses | $25,449.51 |
| Average Vermont client total debt | $12,582.73 |
| Average Vermont client savings | $15,110.21 |
A Vermont Client's Story
A recently divorced woman from Montpelier, Vermont contacted me for help. She had accumulated $17 thousand in credit card and finance company debt as a result of a messy divorce. She was three months behind on one of her accounts. After reviewing her expenses and income, I determined that we were able to reduce her monthly payment so that her monthly income was sufficient to pay her household expenses and a reduce Creditguard payment to pay off all her credit cards in just a few short years. After reviewing these options with her, she was able to avoid bankruptcy.
From: Vermont Statutes Title 8 Banking and Insurance
Chapter 83: Debt Adjusters
§ 2759b. Cancellation of contract
A debtor may cancel a debt adjustment contract at any time without a cancellation premium or penalty. (Added 2003, No. 81 (Adj. Sess.), § 1; amended 2009, No. 137 (Adj. Sess.), § 3.)
§ 2759c. Periodic statements to debtor
Periodically, but not less frequently than quarterly, the licensee shall provide the debtor with a statement showing the payments made by the debtor, how such payments have been distributed, and for each debt covered by the contract:
(1) the beginning amount of such debt;
(2) the current amount due on such debt; and
(3) the basic terms of such debt. (Added 2003, No. 81 (Adj. Sess.), § 1; amended 2009, No. 137 (Adj. Sess.), § 3.)