See How Much Money We Can Save You!
The Frugal Family
Tips for the Frugal Family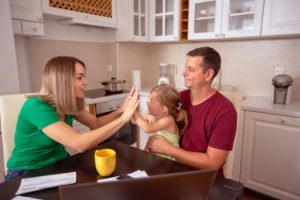 If you're like most people, there's often more days in the month than dollars in your savings account. CreditGUARD is here to help you make the best of your current financial situation and move toward a better financial tomorrow with these tips for a happier, healthier financial life for you and your family.
This is a place to explore guides on family budgeting, teaching your kids about money, how to save money on monthly fixed costs like groceries and utilities, and how to make every dollar stretch further than you can imagine!
Frugal Family Resources — Start Here!
Find the resources you need to build your family's financial muscle from the ground up!
Contact CreditGUARD Today
If you're falling behind on your bills (credit cards, medical bills), CreditGUARD can help you get back on track with credit counseling and our debt management program. You make one easy monthly payment and CreditGUARD takes care of the rest on everything from interest rates, reduced monthly payments, waived penalties and late fees, to stopping harassing collections calls and more
Call CreditGUARD today at1-800-500-6489!