See How Much Money We Can Save You!
Credit Counseling and Debt Consolidation in California
Clients We've helped in California
A Anaheim, California client saved an estimated $8,131.86
A San Pedro, California client saved an estimated $30,520.72
A Los Feliz, California client saved an estimated $7,608.32
A Modesto, California client saved an estimated $21,056.67
A Fairfield, California client saved an estimated $10,417.75
A Oakland, California client saved an estimated $15,056.70
A Whittier, California client saved an estimated $22,287.86
A Chula Vista, California client saved an estimated $10,767.37
A Paradise, California client saved an estimated $2,319.24
A Arroyo Grande, California client saved an estimated $13,889.66
We can help you get out of debt in California. Call us at 1-800-500-6489 to find out how!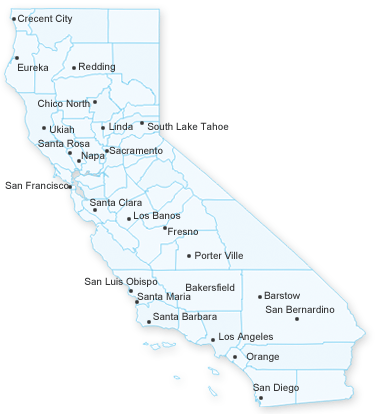 A Friendly, Affordable Solution to Debt
We understand that the recent recession has upended the lives of millions of American families. If you've seen your earnings decrease in recent years, you may be searching for answers to your financial predicament. Fortunately, California credit counseling services from CreditGUARD of America can help you manage and reduce your debt.
We take a comprehensive approach to the debt consolidation process. For starters, we offer a free "Debt Analyzer" calculator on our website that can estimate how much you stand to save using our California debt consolidation plans. It's easy to use and available at any time. To get started, just plug in each of your outstanding credit balances and your monthly payments.
The CreditGUARD Difference
CreditGUARD has offered debt consolidation and credit counseling services for over 20 years. Our trained professionals are committed to right-sizing your budget through a tailored program of debt reduction and budget management. We'll also provide you with helpful hints about staying out of debt in the future. As a staunch proponent of personal financial responsibility, we are committed to doing whatever we can to keep your finances in order.
Our debt consolidation program in California is designed to reduce and eventually eliminate your unsecured debts without forcing you to make painful sacrifices. We work with hundreds of creditors around the country and can help you manage out-of-control balances on your credit cards, medical bills, and other such debts.
Fast and Easy California Debt Consolidation
When you enroll in California credit counseling with CreditGUARD, your debts will be rolled into a single monthly debt payment that carries a reduced interest rate. This process is faster than paying off one debt at a time. What's more, there's no limit to the amount of debt that you can consolidate. Call us at 1-800-500-6489 today to learn more about debt consolidation in California.
California Statistics
| | |
| --- | --- |
| Average California persons per household | 2.00 |
| Average California client age | 45 |
| Average California client annual income | $32,812.90 |
| Average California client annual expenses | $29,039.25 |
| Average California client total debt | $14,554.49 |
| Average California client savings | $18,760.32 |
Real Stories of California Clients
JP and his wife are full time students and he is in the Navy. The Navy pays for his tuition but he is paying for his books. His wife gets a grant for her schooling, but it barely covers her tuition and books. They live on-base in California and have about $6,000 total in unsecured debt on 2 military-issued credit cards. We were able to list both accounts on the DMP and ended up saving them about $100 per month.
I was able to help a woman that was located in Imperial Beach California, who was referred by her mother, who had great success through our program. She ended up getting behind on payments since her husband's income was reduced by 10% and she was not able to work full time since she was on heavy cancer medications. She owed a total of $12,000 in credit cards and medical bills. On our payment plan, she was able to save $7,000 in interest and fees, and able to make the payments by bringing her payments back down to the minimum payments they were making before she got behind. She was excited to get set up into our program so she can stop receiving calls constantly from her creditors.
Client called from San Diego, California wanting information about the debt management program and how it could help them stay on track and get out of debt. After his spouse had lost her job and now less $2,500 a month income in the household, they were now in danger of falling behind. After reviewing the debt to income and putting all creditor information in with a total debt of $12,333, I was able to get an approval with a payment of $333 a month saving $65 a month. Becoming debt free in 4 years and 6 months saving a total of $20,083.
N, of Sanger California had a 19% pay cut equal to $400 a month in loss of income and her daughter just started college and there is no assistance for tuition or books etc. She is paying off her own student loans so we assisted her with this as well. She is $8800 in debt and we were able to cut her monthly payment to $235 a month on her credit cards saving her $76 a month. Between our student loan help and our debt management program client was very happy to have solutions that saved her money and got her out of debt in just 4 years and 2 months.
From: California Check Sellers, Bill Payers and Proraters Law
Section 12104 (i)
(i) The nonprofit community service organization submits to the commissioner, at the organization's expense, an audit report containing audited financial statements covering the calendar year or, if the organization has an established fiscal year, then for that fiscal year, within 120 days after the close of the calendar or fiscal year.
Learn More about Our Debt Consolidation and Credit Counseling Services in: