See How Much Money We Can Save You!
Credit Counseling and Debt Consolidation in Alabama
We can help you get out of debt in Alabama. Call us at 1-800-589-1643 to find out how!
Clients We've helped in Alabama
A Midfield, Alabama client saved an estimated $22,319.76
A Coosada, Alabama client saved an estimated $7,281.09
A Gardendale, Alabama client saved an estimated $33,247.76
A Sylvania, Alabama client saved an estimated $3,491.81
A Opelika, Alabama client saved an estimated $15,694.37
A Birmingham, Alabama client saved an estimated $576.59
A Calera, Alabama client saved an estimated $24,525.69
A Mobile, Alabama client saved an estimated $6,426.79
A Montgomery, Alabama client saved an estimated $3,764.23
A Birmingham, Alabama client saved an estimated $1,459.21
Real Stories of Alabama Clients
A client that lives in Brookwood, Alabama had overextended her lines of credit. Her husband's overtime was cut and her business was not doing so well due to change in economy. She lost $300 a week in income due to the change and now will get behind on her credit card payments. She owes a total of $44,000 in credit cards and by enrolling in our program, we were able to save her $60,000 in interest. She was happy our program would be saving money in the end and on a monthly basis.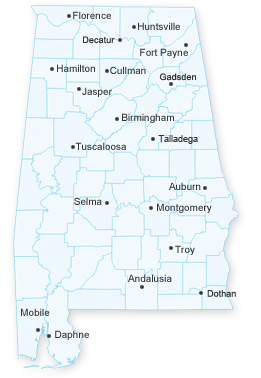 A Huntsville, Alabama client is extended in debt. She has some recent major expenses she had to pay and she used her credit cards. She has credit cards and a personal loan for 38,000. In order to qualify for a debt management program she gathered her credit card accounts and faxed over her information so we could complete her application.
A client from Northport, Alabama was in a very bad car accident 2yrs ago which has left him with major head injuries resulting in brain damage. He can no longer keep up with all of these credit card payments – does not want to fall further behind. Client also stated w/the slight brain damage he has he gets stressed out very easy now – older retired man 75yrs old – also his wife passed only a yr ago and loss that extra income as well
He has $15,532 all in credit card debt and will be saving $23,437 in fees and interest. He will be debt free in 4 years and 11months as opposed to 38years and 10 months!
Alabama Credit Counseling with CreditGUARD
CreditGUARD of America, Inc. knows debt has a way of materializing without advance warning. No matter where you live or how much you earn, you could fall behind on your bills at any time. For over 20 years, our nonprofit organization has offered compassionate, effective credit counseling services, and today we do the same. Our credit counselors have helped thousands of homeowners and consumers reduce their debts and live happier, less stressful lives.
Get Comprehensive Alabama Debt Consolidation
Enroll in our credit counseling program, and our seasoned credit counselors will begin negotiating with your creditors. We will provide you with a debt repayment plan that helps you regain control over your debts and start fresh.
Our counselors will consolidate your credit cards, medical bills, and other unsecured debts into a single obligation that carries a reduced interest rate. The "Debt Analyzer" tool on our website makes estimating your debt consolidation plan in Alabama easy. To estimate your savings with a CreditGUARD plan, enter the values for all of your unsecured debt balances and payments in the appropriate fields. In no time, you'll receive a free estimate that outlines your potential savings with a Alabama debt consolidation plan.
Learn More About Our Debt Consolidation and Credit Counseling Services in:
Going Beyond Alabama Credit Counseling
CreditGUARD also offers a number of other services. On our site you'll find in-depth articles about debt consolidation, money management, and budgeting. Our educational resources section offers a wealth of information about various aspects of personal finance. Our helpful credit counselors stand ready to answer any questions about money management and debt consolidation in Alabama. Call us today at 1-800-589-1643, or complete the online form, and find some peace of mind at last.
Alabama Statistics
| | |
| --- | --- |
| Average Alabama persons per household | 2.24 |
| Average Alabama client age | 51 |
| Average Alabama client annual income | $30,719.27 |
| Average Alabama client annual expenses | $26,786.50 |
| Average Alabama client total debt | $13,554.01 |
| Average Alabama client savings | $16,075.40 |
From: Alabama Securities Act Title 7 – Sale of Checks Act
Section 8-7-3 License — Required.
No person, as a service or for a fee or other consideration, shall engage in the business of selling, issuing, or otherwise dispensing checks or receiving money as agent for obligors for the purpose of paying such obligors' bills, invoices, or accounts without first obtaining a license from the commission pursuant to the provisions of this chapter.
(Acts 1961, Ex. Sess., No. 177, p. 2142, §3.)