See how fast you can get out of debt
Credit Counseling and Debt Consolidation in South Carolina
Clients We've helped in South Carolina
A Hopkins, South Carolina client saved an estimated $31,032.45
A Kingstree, South Carolina client saved an estimated $21,594.60
A Columbia, South Carolina client saved an estimated $5,288.00
A Lake City, South Carolina client saved an estimated $7,525.68
A North, South Carolina client saved an estimated $628.25
A Sumter, South Carolina client saved an estimated $20,005.17
A Rock Hill, South Carolina client saved an estimated $15,721.72
A Hopkins, South Carolina client saved an estimated $40,622.87
A Gaston, South Carolina client saved an estimated $11,944.69
A Alcolu, South Carolina client saved an estimated $1,109.92
We can help you get out of debt in South Carolina. Call us at 1-800-589-1643 to find out how!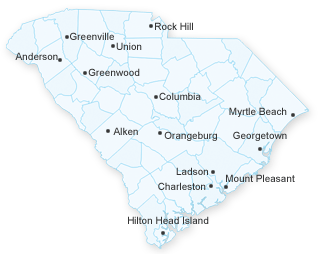 Change Your Life with South Carolina Credit Counseling

Just because you're in debt doesn't mean life is over. We understand that falling into debt can happen to any one of us. At CreditGUARD of America, Inc., we've been helping people get rid of debt for over two decades. No matter how much debt you're facing, you are eligible for our services. As a nonprofit debt consulting organization, we are dedicated to serving your unique financial needs. If you have mounting debt, you can be assured we'll help you take charge of your finances.

Programs to Suit Your Needs at South Carolina Debt Consolidation

We offer a wide array of services to suit your unique needs, including budgeting and debt management. If you need tips and strategies on budgeting for financial success, our certified financial counselors are happy to assist. They will help you devise a plan to pay bills on time along with saving for the future. Our debt management program includes debt consolidation. Our counselors work closely with clients to evaluate both secured and unsecured debts. We will negotiate with your creditors for lower payments, including lower interest rates. Your unsecured debts can be consolidated into one simple and affordable monthly payment. With our help, you'll be on your way to a debt-free life.
We even provide our clients with the educational resources for financial planning, home financing, money management, and fair collection practices. Knowledge is power, and we want to empower you. With our resources for fair collection practices, you can stop the harassing collection calls and act as your own advocate.
Live Life Today
Live life today and get on track with help from CreditGUARD of America, Inc. We will help guide you with an effective and hassle-free solution to get out of debt. If you'd like to learn more regarding debt consolidation in South Carolina, call us at 1-800-589-1643 or fill out the online form.
South Carolina Statistics
| | |
| --- | --- |
| Average South Carolina persons per household | 2.00 |
| Average South Carolina client age | 51 |
| Average South Carolina client annual income | $32,362.59 |
| Average South Carolina client annual expenses | $27,675.45 |
| Average South Carolina client total debt | $16,464.23 |
| Average South Carolina client savings | $20,586.77 |
Real Stories of South Carolina Clients
Client had made contact with our office from Charleston, South Carolina and I called her back. The client stated that she was not having any other financial problems at this time other that with her mortgage. The client stated that she is currently undergoing treatment for cancer and this has been going on for a year and she has not been able to return to work. The client stated that she is currently waiting for her disability to be approved. I found the perfect solution available for her. She stated that the value of her home was $145,000.00, and she owed $54,000.00 and was currently behind with her payments.
A client in Sumter South Carolina that I was able to help was living from pay check to pay check and having a hard time keeping up with his minimum payments. He had not had a raise in 2 years and all his monthly bills have gone up especially childcare and insurance. He was looking to get one monthly payment that he can manage to take care of the $7,000 credit card debt he had. On CreditGuard of America's program we were able to save him $23,000 in interest and have him paid off in 5years instead of 30. He was extremely grateful that we were able to make the payment more manageable for him and save him a headache every month.
From: Title 37 – Consumer Protection Code Chapter 7 Consumer Credit Counseling
SECTION 37-7-109. Debt management plan; fee; form for consent of creditors; notice of plan to creditors; presumed consent.
(A) Upon establishing a debt management plan for a debtor, a licensee may charge and receive a setup fee as established by the department by regulation. If, within forty-five days of establishing the debt management plan, the lack of consent from the debtor's creditors causes the DMP to be no longer suitable for the debtor, the fee must be returned to the debtor and the debtor's account closed.
(B) Consent from the debtor's creditors must be recorded on a separate form to be kept in the debtor's file. The form must contain:
(1) a list of all the creditors;
(2) the manner in which consent was sought;
(3) the date of each contact;
(4) the name of the person contacted, if available;
(5) the response obtained from the person contacted;
(6) revised or special conditions or arrangements that condition the consent; and
(7) the date on which the required consent was secured.
(C) The consent of a creditor may be sought by sending a notice of a debt management plan to a creditor by appropriate means, including by telephone, facsimile, electronic mail, or first class mail. If the creditor does not respond within fourteen days after the sending of the notice, it is presumed that the creditor has given consent.
(D) If a payment under the debt management plan is sent to a creditor, acceptance