See How Much Money We Can Save You!
What Is Deferred Interest?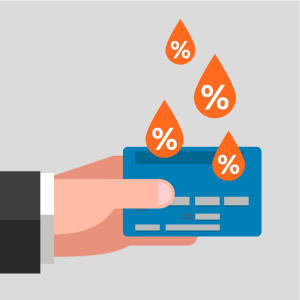 What is deferred interest?
If you've heard the phrase, "12 months, same as cash," you've heard the allure of deferred interest. This is the most common type of deferred interest — a plan that delays paying interest on a loan for a given amount of time. Usually, these plans waive the interest owed if the full amount of the loan is paid before the end of the introductory period.
That being said, there are more scenarios in which deferred interest takes on a more complicated definition.
In some cases, loan contracts will allow a minimum payment that is so low that it doesn't cover the interest accrued on the account, and doesn't pay anything toward the principal. In these cases, the "deferred interest" unpaid is then added to the principal on the back end. This is also referred to as "negative amortization."
Problems of Deferred Interest
This practice was common in years leading up to the mortgage crisis of 2008. In these scenarios, home buyers quickly became underwater on their mortgages, meaning that, because of the minimum payment model, they essentially paid so little that they didn't keep the pace with the interest accruing on their loan account. The result? Borrowers ending up owing more than the value of their homes and, when their payments became too high, they could end up in foreclosure.
Deferred payments
Deferred payments are not the same thing as deferred interest. A deferred payment is the result of a provision in a loan agreement that allows the borrower to defer making their loan payments until the agreed upon time in the future. Deferred payments are most common with student loans. Payment may be deferred after a student graduates for a given period of time, at which they would then have to begin making their student loan payments.
How to make the best of deferred interest
If you are currently carrying any debt that has a deferred interest provision, the best thing you can do is pay more than the minimum payment on the loan and request that any amount above the minimum payment be applied toward the principal of the loan. In this way, it is possible to avoid getting caught in the undertow created by deferred interest.
The reason that there are so many offers for "90 days, same as cash," is because the majority of those who opt in to these deals DO NOT repay the loan within the 90 days. This is great for the lender, because then they get to apply a handsome interest rate to the principal, and it gets backdated to day 1!
If you're facing a debt situation compounded by late payments, high-interest rates or deferred interest problems, CreditGUARD may be able to help you regain financial traction. Our certified credit counselors are here to help you better understand your current financial situation, your options moving forward, and how to make the right decisions now to create a better financial tomorrow.
Call CreditGUARD today to learn more about our debt management and nonprofit debt consolidation programs. We do not offer any new loans. You pay one simple amount each month and get to breathe easier knowing you're on the road to financial freedom.