See How Much Money We Can Save You!
Credit Counseling and Debt Consolidation in Wisconsin
Clients We've helped in Wisconsin
A Plover, Wisconsin client saved an estimated $13,420.92
A Chippewa Falls, Wisconsin client saved an estimated $10,107.54
A Kenosha, Wisconsin client saved an estimated $7,744.03
A Hudson, Wisconsin client saved an estimated $10,715.21
A Mauston, Wisconsin client saved an estimated $22,453.17
A Racine, Wisconsin client saved an estimated $18,481.49
A Cedarburg, Wisconsin client saved an estimated $70,162.75
A Oakfield, Wisconsin client saved an estimated $8,998.30
A Kenosha, Wisconsin client saved an estimated $34,125.03
A Hartford, Wisconsin client saved an estimated $11,425.18
We can help you get out of debt in Wisconsin. Call us at 1-800-589-1643 to find out how!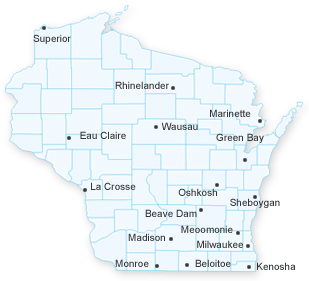 Restore Your Credit with Wisconsin Debt Consolidation
With a sudden job loss, unexpected illness or loss of a pension, life can change in an instant. We understand that life can come at you fast, making it easy to fall behind on your financial obligations. However, CreditGUARD's Wisconsin credit counseling services can help restore your peace of mind as well as your credit.
For over two decades, we've been helping people manage their finances responsibly. If you're facing overwhelming credit card debt, our knowledgeable financial counselors can provide you with the tools needed to pay off your debts and secure your future.
How Wisconsin Credit Counseling Can Help You
As a debt consolidation agency, we offer a variety of services for our clients. Our Wisconsin debt consolidation program is ideal for those who find it difficult to make minimum monthly payments on credit cards or have fallen behind in payments. No matter how much credit debt you have or how many payments you're behind, we can help. Our expert financial counselors will negotiate with your creditors and consolidate the multiple debts into one monthly payment.
If you need help in overseeing your monthly budget, our counselors can offer up helpful tips and effective strategies for better money management. We will assist you in creating a budget that enables you to pay off your monthly payment while saving for future expenses.
We're Just a Phone Call Away
Our services are tailored to assist anyone with credit issues. To find out more about our services and debt consolidation in Wisconsin, call 1-800-589-1643 or fill out our online form for assistance.
Wisconsin Statistics
| | |
| --- | --- |
| Average Wisconsin persons per household | 2.00 |
| Average Wisconsin client age | 46 |
| Average Wisconsin client annual income | $29,587.41 |
| Average Wisconsin client annual expenses | $26,020.41 |
| Average Wisconsin client total debt | $13,812.46 |
| Average Wisconsin client savings | $17,686.94 |
A Wisconsin Client's Story
A twenty-two year-old college student from Madison, Wisconsin fell behind on credit card debt that included several store accounts and a credit card charge account. Her total debt exceeded $6,700. Even though she was living with her parents and working full time as a restaurant server, she was unable to keep up with the payments due to other financial obligations including a car loan and a cell phone bill. Through Creditguard of America's counseling and debt management programs, the young student's annual percentage rates were reduced from more than twenty percent to less than 10 percent. Her total monthly payment was reduced to $181 from $295. Her late accounts will be re-aged, which means brought to current status, and she will be debt free in only 3 years and nine months.
From: Chapter DFI−Bkg 73 – ADJUSTMENT SERVICE COMPANIES
DFI−Bkg 73.03 Business procedure.
(4) REMITTANCES. Remittances shall be made to the creditors within 15 days after receipt of funds from debtor unless debtor requests in writing that funds be held in escrow for specific purposes for a period of not to exceed 180 days.
(5) RECEIPT REQUIREMENTS. Whenever a payment is received from a debtor or other person, a receipt showing the date said payment was received shall be prepared and a duplicate copy shall be available at all times in the office of the licensee. All receipts must be prepared at least in duplicate, be pre-numbered by the printer and filed in consecutive numerical order and shall show the name and account number of the debtor, the name and address of the licensee, the date and amount paid, and the name or initials of the person accepting the payment.