See How Much Money We Can Save You!
Credit Counseling and Debt Consolidation in Virginia
Clients We've helped in Virginia
A Virginia Beach, Virginia client saved an estimated $21,245.30
A Richmond, Virginia client saved an estimated $21,627.68
A Norfolk, Virginia client saved an estimated $6,169.51
A Alexandria, Virginia client saved an estimated $12,842.34
A Ferrum, Virginia client saved an estimated $15,205.58
A Leesburg, Virginia client saved an estimated $26,175.68
A Callaway, Virginia client saved an estimated $2,050.14
A Winchester, Virginia client saved an estimated $17,961.38
A Bristol, Virginia client saved an estimated $5,001.00
A Fredericksbrg, Virginia client saved an estimated $824.26
We can help you get out of debt in Virginia. Call us at 1-800-589-1643 to find out how!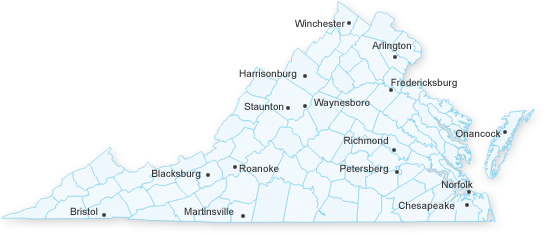 Wage War on Debt with Virginia Credit Counseling
Chipping away at mounds of debt can seem like an uphill battle. It feels as though you'll never win. At CreditGUARD of America, Inc., we've been helping people win both the battle and the war when it comes to reducing and eliminating debt. With our 20 years of experience and expert financial counselors, we set you up for financial success with all the right ammunition. We offer a variety of debt resolution solutions along with top-notch educational resources for your arsenal. We know it's hard to think like a winner when you're facing credit card bills, mortgage payments, car loans, and everyday living expenses, but we'll get you there. With our expert financial counselors helping you step by step, you'll soon regain your confidence and fight to be a winner. In no time, you'll be a champion and master of your personal financial affairs.
Five-Star Services at Virginia Debt Consolidation
At Virginia debt consolidation, you can expect the best services. Our financial counselor will give you the detailed attention your situation requires. They will evaluate all of your debts, including unsecured and secured debts. If they feel that budget counseling is a good fit for your financial situation, they will outline a program for money management. You can expect them to provide tips and strategies to reduce spending habits along with providing ways to save money.
Get Ahead with CreditGUARD
With our credit counseling services, you can finally get ahead of debt. We'll help you improve your credit and learn budgeting tips for the future. With our strategic plans, you'll be back on top before you know it.
If you're facing a lot of credit card debt and are falling behind in payments or are unable to pay, our debt consolidation program can assist you. The debt consolidation program is a very effective way to both reduce and eliminate debt. Your financial counselor will contact your creditors and advocate for the removal of any late fees and to lower interest rates. All of your debt is added together for one affordable payment. Once you send us your payment, we then forward payment to your creditors.
To learn more about our credit counseling plan and our debt consolidation in Virginia, you can fill out the online form or call us at 1-800-589-1643. There's never any obligation, and our staff is always glad to answer any questions.
Virginia Statistics
| | |
| --- | --- |
| Average Virginia persons per household | 2.19 |
| Average Virginia client age | 50 |
| Average Virginia client annual income | $32,532.29 |
| Average Virginia client annual expenses | $29,057.60 |
| Average Virginia client total debt | $13,541.23 |
| Average Virginia client savings | $17,311.69 |
Real Stories of Virginia Clients
A property manager from Alexandria, Virginia., missed three months of work due to illness. She owed more than ten thousand dollars to various medical providers and was in danger of having her past due bills turned over to collection agencies. She was looking to consolidate the bills into one payment. After reviewing her income and expenses, I was able to set up an affordable payment plan at zero interest. She was very happy to learn that a monthly payment of only $251 will have her debt free in 3 years and 6 months.
A Client from Manassas, Virginia is not working full time anymore as she is in her early 60's. She only has retirement income and she is working only part time and living on her social security. She wants to go to CNA school to get a full time nursing job. She wants to get the reduced interest rates on $1900 of debt so she can pay these off before she starts school late in life. She is alone with no help. With our program, she will save $150.00 per month in reduced monthly payments.
From: CODE OF VIRGINIA Title 6.2 – Financial Institutions and Services
Chapter 20 – Agencies Providing Debt Management Plans
§ 6.2-2008. Retention of books, accounts, and records; responding to Bureau.
A. Every licensee shall maintain in its licensed offices such books, accounts, and records as the Commission may reasonably require in order to determine whether the licensee is complying with the provisions of this chapter and regulations adopted thereunder. Such books, accounts, and records shall be maintained apart and separate from any other business in which the licensee is involved. Such records relating to DMPs shall be retained for at least three years after the DMPs are terminated. To safeguard the privacy of consumers, records containing personal financial information shall be shredded, incinerated, or otherwise disposed of in a secure manner. Licensees may arrange for the shredding, incineration, or other disposal of the records from a business record destruction vendor.
B. When the Bureau requests a written response, books, records, documentation, or other information from a licensee in connection with the Bureau's investigation, enforcement, or examination of compliance with applicable laws, the licensee shall deliver a written response as well as any requested books, records, documentation, or information within the time period specified in the Bureau's request. If no time period is specified, a written response as well as any requested books, records, documentation, or information shall be delivered by the licensee to the Bureau not later than 30 days from the date of such request. In determining the specified time period for responding to the Bureau and when considering a request for an extension of time to respond, the Bureau shall take into consideration the volume and complexity of the requested written response, books, records, documentation, or information and such other factors as the Bureau determines to be relevant under the circumstances.
CreditGUARD of America, Inc., is licensed by the Virginia State Corporation Commission; License #DC-26