See How Much Money We Can Save You!
Credit Counseling and Debt Consolidation in Utah
Clients We've helped in Utah
A Saint George, Utah client saved an estimated $4,618.84
A Nibley, Utah client saved an estimated $3,540.19
A Layton, Utah client saved an estimated $5,904.68
A Blanding, Utah client saved an estimated $14,180.51
A Murray, Utah client saved an estimated $6,668.91
A Murray, Utah client saved an estimated $29,196.56
A Tooele, Utah client saved an estimated $16,636.08
A Monroe, Utah client saved an estimated $13,701.12
A Kearns, Utah client saved an estimated $6,819.15
A Salt Lake City, Utah client saved an estimated $9,973.78
We can help you get out of debt in Utah. Call us at 1-800-589-1643 to find out how!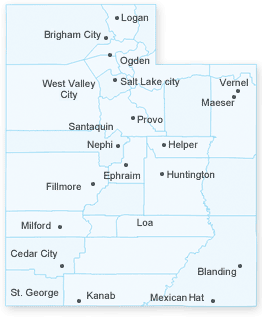 Get Back on Track with Utah Credit Counseling
At one time or another, we all face financial difficulties. Credit card bills, mortgage payments, car loans, and everyday expenses can quickly total a high price tag. Before you know it, even making the minimum payment on a credit card can be difficult. If you're finding it tough to keep up with your financial obligations or are falling behind, turn to CreditGUARD of America, Inc. for help.
For over 20 years, we've been helping people get their financial lives back on track. With our effective debt consolidation plans, expert counseling, and educational resources, you can get on track and stay on track. We understand how stressful it can be when you can't pay your bills. Our certified and professional financial counselors will help you every step of the way and get you on the road to a debt-free life.
The Solutions at Utah Debt Consolidation
We offer a wide array of debt-free solutions for Utah debt consolidation. If you're facing overwhelming credit card debt, you can opt for our debt management program. It's one of the best ways to ensure an affordable monthly payment. Our financial advisors will advocate for you to get a lower interest rate along with removing any late fees with your creditors. All of your credit card bills can be consolidated for one easy payment.
We also provide educational resources for credit management, debt collection, and money management. You can learn about credit analysis, ways to improve your credit, fair debt collection practices, home financing, and household budgeting. You can even use our financial calculators to help manage your finances. Taking advantage of our educational resources is an ideal way to master personal money management.

Getting Information for Debt Consolidation in Utah

Our mission is to help people acquire and maintain financial stability. If you'd like to know more about our services for debt consolidation in Utah, feel free to call us at 1-800-589-1643 or fill out the online form. Our staff is always pleased to answer any questions.
Utah Statistics
| | |
| --- | --- |
| Average Utah persons per household | 3.05 |
| Average Utah client age | 46 |
| Average Utah client annual income | $35,863.29 |
| Average Utah client annual expenses | $31,669.82 |
| Average Utah client total debt | $14,601.93 |
| Average Utah client savings | $17,640.55 |
A Utah Client's Story
A client called from Logan Utah and said she had over $6,500 in credit card debt and needed some relief. We were able to lower her monthly payment on all four credit cards and save her nearly $8,000 in interest and fees and have her out of debt in only four and a half years.
From: Title 13 Chapter 42 Uniform Debt-Management Services Act
(16) "Provider" means a person that provides, offers to provide, or agrees to provide debt-management services directly or through others.
13-42-116. Customer service.
A provider that is required to be registered under this chapter shall maintain a toll-free communication system, staffed at a level that reasonably permits an individual to speak to a certified counselor or customer service representative, as appropriate, during ordinary business hours.