See How Much Money We Can Save You!
Credit Counseling and Debt Consolidation in Texas
Clients We've helped in Texas
A Garland, Texas client saved an estimated $14,103.14
A Grand Prairie, Texas client saved an estimated $3,689.19
A Magnolia, Texas client saved an estimated $61,402.26
A Arlington, Texas client saved an estimated $49,903.11
A Muleshoe, Texas client saved an estimated $2,466.00
A Dallas, Texas client saved an estimated $961.00
A Brownsville, Texas client saved an estimated $6,510.02
A De Berry, Texas client saved an estimated $14,096.25
A Arlington, Texas client saved an estimated $1,223.45
A Mount Pleasant, Texas client saved an estimated $3,786.85
We can help you get out of debt in Texas. Call us at 1-800-500-6489 to find out how!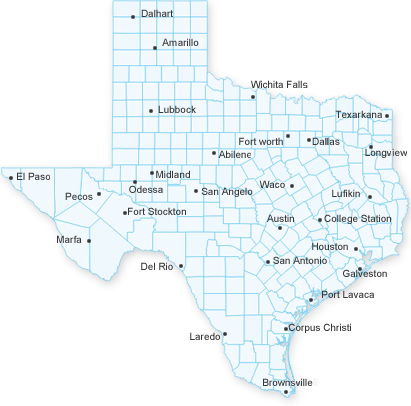 Turn Your Life Around with Texas Credit Counseling
Today, everyone is stressed out over their personal finances. Many people live paycheck to paycheck and have little or no savings. As a result, many turn to their credit cards for expenditures like medical bills, clothing, food, utility bills, household appliances and much more. At CreditGUARD of America, Inc., we understand how stressful debt can be. Some days, you feel like you'll never get ahead. Our mission is to help you manage money and to provide you with viable solutions for a debt-free life. We are a nonprofit organization and have been helping people overcome financial hurdles for over two decades. When it comes to debt relief, we are the trustworthy experts that you can turn to.
Effective Help from Texas Debt Consolidation
Our experienced and certified financial counselors have the expertise to get you on the path to financial stability. Along with educational resources for budgeting and money management, we offer a debt management program to help make your credit card payments affordable. Your financial counselor will discuss your debt-to-income ratio with you after reviewing both your secured and unsecured debts. They will also negotiate on your behalf for lower interest and the removal of any penalty fees with all of your creditors. Your bills will be lumped together for one affordable monthly payment. This is known as debt consolidation. Keep in mind that trying to attempt debt consolidation on your own is no easy task. Having our counselors act on your behalf is better ammunition. Our financial counselors have the know-how and expert negotiation skills.
Attain Debt Consolidation in Texas
Our staff at CreditGUARD of America, Inc. is ready and able to help. Feel free to call us anytime at 1-800-500-6489. You are under no obligation and are free to ask any questions. You'll find our staff is very friendly and knowledgeable. You can also fill out the online form, and one of our reps will follow up with you.
Texas Statistics
| | |
| --- | --- |
| Average Texas persons per household | 2.00 |
| Average Texas client age | 47 |
| Average Texas client annual income | $33,953.00 |
| Average Texas client annual expenses | $29,683.80 |
| Average Texas client total debt | $14,516.23 |
| Average Texas client savings | $18,226.84 |
Real Stories of Texas Clients
A 79 year old lady called from Fort Worth, Texas for help with her credit card. She is on a fixed income and was getting help from her daughter. Client has some medical issues, but her daughter has many more, so the client decided to move back into her own home and tackle her debts on her own. The client fell behind on the credit card and now is having trouble bringing the account current. In just over four years in the Creditguard program, the client will not only able to bring the account current, but also pay it in full and save over $6000 in interest and fees.
I was able to help a client living in Killeen Texas. He was in the process of joining the army and needed to get his debts managed before he started. His income was going to be less and so we were able to set him up onto the program with one payment a month that was low enough to afford. He owed $3,700 in credit cards and we were able to save him 20 years on getting this debt paid. He was very happy his debts were in one payment and he would be paid off sooner, and was very excited to get the process started.
A Lubbock, Texas client's husband lost his job over a year ago and has been looking ever since, in his line of work there has been nothing in the area or surrounding areas, it has been tough for the client supporting the entire family off of her salary – she also has 2 kids under the age of 10. This client knows she can no longer keep up and knows she will fall behind without some kind of assistance. The debt management program will liquidate all her $30,400 in total debt in 4years and 7 months instead of 45 years and 2 months without the program, saving over $46,887 in interest and fees.
Learn More about Our Debt Consolidation and Credit Counseling Services in:
From: TITLE 5. PROTECTION OF CONSUMERS OF FINANCIAL SERVICES
CHAPTER 394. DEBTOR ASSISTANCE,
SUBCHAPTER A. DEBT COUNSELING AND EDUCATION
Sec. 394.001. DUTIES OF COMMISSIONER. The consumer credit commissioner shall provide advice and assistance to:
(1) encourage the establishment and operation of voluntary nonprofit debt-counseling services for residents of this state; and
(2) coordinate, encourage, and aid public and private agencies, organizations and groups, and consumer credit institutions in the development and operation of voluntary education programs to promote the prudent and beneficial use of consumer credit by residents of this state.
SUBCHAPTER C. CONSUMER DEBT MANAGEMENT SERVICES
Sec. 394.201. PURPOSE; CONSTRUCTION. (a) The purpose of this subchapter is to protect consumers who contract for services with debt management services providers.
(b) This subchapter shall be liberally construed to accomplish its purpose.
"Debt management service" means a service in which a provider obtains or seeks to obtain a concession from one or more creditors on behalf of a consumer.
Sec. 394.208. REQUIRED ACTIONS BY PROVIDER.
(a) A provider may not enroll a consumer in a debt management plan unless, through the services of a counselor certified by an independent accreditation organization, the provider:
(1) has provided the consumer individualized counseling and educational information that at a minimum addresses the topics of managing household finances, managing credit and debt, and budgeting;
(2) has prepared an individualized financial analysis and an initial debt management plan for the consumer's debts with specific recommendations regarding actions the consumer should take;
(3) has determined that the consumer has a reasonable ability to make payments under the proposed debt management plan based on the information provided by the consumer;
(4) if the proposed debt management plan does not provide for a reduction of principal as a concession:
(A) has a reasonable expectation, provided that the consumer has provided accurate information to the provider, that each creditor of the consumer listed as a participating creditor in the plan will accept payment of the consumer's debts as provided in the initial plan; and
(B) has prepared, for all creditors identified by the consumer or identified through additional investigation by the provider, a list, which must be provided to the consumer in a form the consumer may keep, of the creditors that the provider reasonably expects to participate in the plan;