See How Much Money We Can Save You!
Credit Counseling and Debt Consolidation in South Dakota
Clients We've helped in South Dakota
A Hot Springs, South Dakota client saved an estimated $938.53
A Pierre, South Dakota client saved an estimated $35,867.61
A Watertown, South Dakota client saved an estimated $560.52
A Onida, South Dakota client saved an estimated $1,856.40
A Sioux Falls, South Dakota client saved an estimated $7,916.64
A Huron, South Dakota client saved an estimated $11,076.16
A Edgemont, South Dakota client saved an estimated $115,715.01
A Selby, South Dakota client saved an estimated $5,209.80
A Saint Francis, South Dakota client saved an estimated $1,466.10
A Elk Point, South Dakota client saved an estimated $3,482.95
We can help you get out of debt in South Dakota. Call us at 1-800-589-1643 to find out how!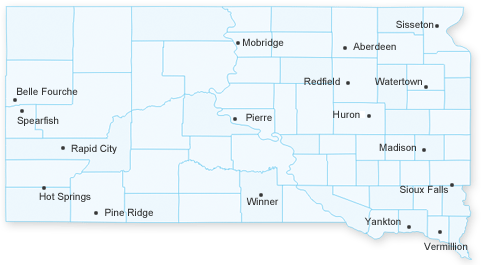 Gear Up for a Debt-Free Life
We know mounting debt can be a very stressful experience. It might have been a long road that led to your debt, but the road to financial recovery doesn't have to be. At CreditGUARD of America, Inc., we've been providing people for over 20 years with quick and effective debt relief solutions. You can feel comfortable knowing that you will always be treated with honesty and respect. Winding up in debt can happen to the best of us. Unexpected job loss, medical expenses, and the cost of living can put a strain on anyone's budget. Unfortunately, none of us are immune to the uncertainties in life. The good news is South Dakota credit counseling can help. Even if you are facing a lot of debt, we've got a plan that will help get you on the right path.
Getting Guidance from South Dakota Debt Consolidation
We offer a variety of effective plans for debt resolution. Our experienced and trustworthy financial counselors will work closely with you to find the plan that best meets your individual circumstances. You'll appreciate the one-on-one personal attention and care that you will receive from our certified financial counselors. From personal loans and car loans to credit cards and household expenses, they will closely review your financial situation. We also offer budget counseling for people who would like assistance in managing their bills, and we provide educational resources for home financing and money management.
As a debt consolidation organization, we can help you consolidate all your unsecured loans into one easy monthly payment. Our counselors will work with your creditors to lower interest rates and come to an agreement for a monthly payment that is affordable with your personal income.
Receive Help from CreditGUARD of America, Inc.

CreditGUARD of America, Inc. has the know-how when it comes to helping people manage their finances and get out of debt. Call us today about debt consolidation in South Dakota at 1-800-589-1643. Whether you need help with money management or debt consolidation, our financial counselors will help find a plan that is just right for you.
South Dakota Statistics
| | |
| --- | --- |
| Average South Dakota persons per household | 2.54 |
| Average South Dakota client age | 46 |
| Average South Dakota client annual income | $27,084.00 |
| Average South Dakota client annual expenses | $22,338.51 |
| Average South Dakota client total debt | $14,950.46 |
| Average South Dakota client savings | $19,949.18 |
A South Dakota Client's Story
JK from Rapid City, South Dakota found us in a magazine. She has been looking for a company that can help her with her situation. She got divorced and remarried recently and her new spouse does not know that she is in debt of $15000. She is current but in danger of falling behind and is spending most of her income on credit card payments. She is looking for a way out of debt that her spouse does not have to find out about and was very happy that Creditguard was able to help with her situation in a confidential manner.
From: Title 37 – Consumer Protection Code Chapter 7 Consumer Credit Counseling
SECTION 37-7-109. Debt management plan; fee; form for consent of creditors; notice of plan to creditors; presumed consent.
(A) Upon establishing a debt management plan for a debtor, a licensee may charge and receive a setup fee as established by the department by regulation. If, within forty-five days of establishing the debt management plan, the lack of consent from the debtor's creditors causes the DMP to be no longer suitable for the debtor, the fee must be returned to the debtor and the debtor's account closed.
(B) Consent from the debtor's creditors must be recorded on a separate form to be kept in the debtor's file. The form must contain:
(1) a list of all the creditors;
(2) the manner in which consent was sought;
(3) the date of each contact;
(4) the name of the person contacted, if available;
(5) the response obtained from the person contacted;
(6) revised or special conditions or arrangements that condition the consent; and
(7) the date on which the required consent was secured.
(C) The consent of a creditor may be sought by sending a notice of a debt management plan to a creditor by appropriate means, including by telephone, facsimile, electronic mail, or first class mail. If the creditor does not respond within fourteen days after the sending of the notice, it is presumed that the creditor has given consent.
(D) If a payment under the debt management plan is sent to a creditor, acceptance