See How Much Money We Can Save You!
Find Debt Relief for Columbia, South Carolina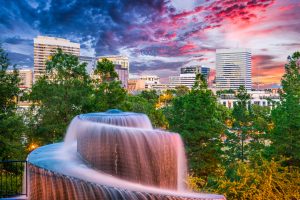 Credit Solutions for Columbia

Columbia has been called "The Capital of Southern Hospitality." Named after Italian explorer Christopher Columbus, Columbia was officially chartered in 1854 and quickly became the second largest city in the state.  Home to Congaree National Park, Columbia contains the tallest trees east of the Mississippi River. The park has some of tallest known trees for over two dozen different species.
Find Debt Relief Now

According to the Bureau of Labor Statistics, in April 2018 Columbia had an unemployment rate of 2.7%. This percentage is just below the national average of 3.9%. Residents of Columbia may have a lower unemployment rate than most of the nation, but their hourly wages are 13% less than average. The prices of home purchases and rentals are on the rise in Columbia. The average cost of a home in the area is $153,000 and the median rent per month is $1,200.
Don't battle debt alone
Living in debt can have an adverse effect on not just your financial situation but also the quality of life. As your day to day becomes overwhelmed with late debt payments and harassing phone calls from debt collectors, you may begin to feel anxious or hopeless. CreditGUARD understands your struggle. Many of the clients we've helped in the past came to CreditGUARD with a similar situation.
Begin your debt-free life
Creating a better financial future doesn't have to be boring. Columbia, SC offers many opportunities for their residents to get out and explore their city without dipping into their wallets. If you're interested in unusual art, stop by Busted Plug Plaza located at Columbia City Center. This four-story, 675,000-pound fire hydrant sculpture is so peculiar that you'll need to snap a few photos. For history buffs walking the Cayce Riverwalk 12,000 Year Trail is excellent to relax and learn more about South Carolinian history. Finlay Park is the perfect location for a peaceful picnic on a beautiful day.
Take control of your financial situation
Columbia may be called Soda City by some locals, but it doesn't mean residents have to live in a sticky financial situation. CreditGUARD is ready to assist any Columbians who struggle with debt. Our certified credit counselors are available to help you take control of your debt through financial education. Turn your multiple debt payments into one easy to handle payment with our nonprofit debt management program. If you want a brighter financial future, make CreditGUARD your next move.