See How Much Money We Can Save You!
Credit Counseling and Debt Consolidation in Oklahoma
Clients We've helped in Oklahoma
No Rows Returned for SQL select TOP 10 city, savings from client_savings_demographics where state = 'ok' and savings > 100 ORDER BY NEWID()
We can help you get out of debt in Oklahoma. Call us at 1-800-589-1643 to find out how!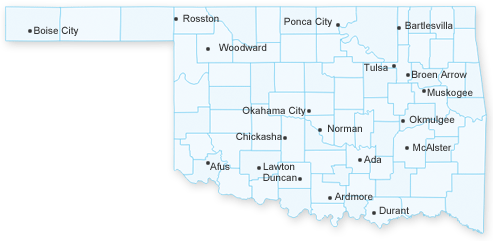 Achieve Financial Stability with Oklahoma Credit Counseling
Whether you're a hard-working professional, college student or retiree, falling into debt can happen to the best of us. For many, getting out of debt seems impossible. Fortunately, CreditGUARD of America, Inc. makes debt relief a reality. We have helped countless people get rid of their outstanding debts. Regardless of how much you currently owe, we can help you get back on your feet and achieve financial stability once more.
Devising a Plan of Action at Oklahoma Debt Consolidation
There are a number of ways that CreditGUARD can improve your financial situation. Regardless of your profession, income level or circumstances, we have an action plan for you. Our expert financial counselors have an excellent track record for compassion and proven success. We understand that every client has unique circumstances, which is why we work closely with you to achieve a debt management plan tailored to your needs. Once we've reviewed your secured and unsecured debts, we can devise an effective plan of action for you.
If collection agencies are hounding you with phone calls and letters, our Oklahoma debt consolidation professionals will put a stop to that. We will contact your creditors to discuss an amicable payment plan that you can afford. In addition, we will put an end to penalizing fees and negotiate for lower interest rates. Part of our debt management plan is also to consolidate all of your payments into one easy monthly payment.
Get Help with Everyday Money Management
If you're looking for money management tips to help organize your budget and plan for the future, we can help. Our professional credit counselors will help you budget your monthly income so that you can pay for everyday expense without sinking into debt. We'll also help you reduce your spending so that you can put more money towards buying a new home or saving for college.
For help paying off your debt and managing your money more responsibly, call us today at 1-800-589-1643. We can provide you with more information about debt consolidation in Oklahoma.
Oklahoma Statistics
An Oklahoma Client's Story
A customer called from Norman, Oklahoma for information about our program. She is about 38.000.00 in debt and using credit cards to stay a float. Her husband has not worked in 3 years. She does not have a 9-5 job and is self-employed, so the income is up and down. Right now her credit card is on 1-year promotional plan of 0% and not seeing the income like she use to, so she is in a panic stage. I helped her with her budget and gave her a quote on a debt management program where she would be able to keep one of her cards that she uses to buy materials for her work and pay off the rest of her accounts within here existing budget.
From: Oklahoma Statutes Title 18 – Corporations
§18‑381.10. Certificate of authority.
No association or foreign association shall transact business or operate in this state without a certificate of authority issued by the State Banking Commissioner
Learn More about Our Debt Consolidation and Credit Counseling Services in: