See How Much Money We Can Save You!
Credit Counseling and Debt Consolidation in Ohio
Clients We've helped in Ohio
A Rome, Ohio client saved an estimated $6,854.09
A Franklyn, Ohio client saved an estimated $6,143.89
A Cincinnati, Ohio client saved an estimated $63,228.23
A Garrettsville, Ohio client saved an estimated $11,570.70
A Cleveland, Ohio client saved an estimated $11,352.57
A Marion, Ohio client saved an estimated $2,352.23
A Marblehead, Ohio client saved an estimated $21,694.40
A Sylvania, Ohio client saved an estimated $36,622.82
A Madison, Ohio client saved an estimated $35,519.66
A Cleveland, Ohio client saved an estimated $18,576.48
We can help you get out of debt in Ohio. Call us at 1-800-589-1643 to find out how!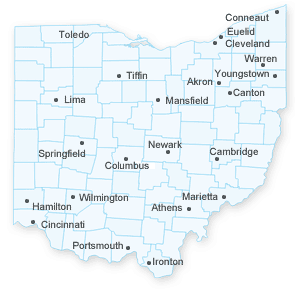 Live Life Debt-Free with Ohio Credit Counseling
Even if you're facing mountains of debt, Ohio credit counseling can offer you effective strategies for a debt-free life. We know you're stressed, which is why we help you get back on your feet. For over two decades, we have been assisting consumers with surefire ways to eliminate those mounting bills. Anyone can slip into debt: An unexpected layoff or illness can easily impede your ability to meet financial obligations. CreditGUARD, however, offers customized budget counseling and debt consolidation.
Expert and Caring Counselors at Ohio Debt Consolidation
At CreditGUARD of America Inc., our financial counselors are certified and truly care about your wellbeing. You'll be impressed with the time we take to review your individual situation and the one-on-one care you receive. Our counselors will review your personal income, mortgage, medical bills, car loans, and household expenses. Upon evaluation, these pros will develop an action plan to help you on the road to financial recovery.
Many times, our financial counselors will offer a debt consolidation plan. With a debt consolidation plan, your financial counselors will work directly with your creditors. Often, we can negotiate lower interest rates and avoid penalty fees for non-payment. In addition, your bills can be consolidated into one easy monthly payment. With an affordable monthly payment, you can be stress-free and on a quick road to paying off your bills.
Take Action Today

If you're stressing over the inability to pay your bills, you're not alone. Many others are in the same position, but CreditGUARD of America, Inc. has helped them get out of debt. Our counselors are just a quick phone call away. Contact us today at 1-800-589-1643. We will be more than pleased to answer any questions about debt consolidation in Ohio so that you can achieve financial success.
Ohio Statistics
| | |
| --- | --- |
| Average Ohio persons per household | 2.24 |
| Average Ohio client age | 48 |
| Average Ohio client annual income | $30,609.34 |
| Average Ohio client annual expenses | $26,169.21 |
| Average Ohio client total debt | $15,222.30 |
| Average Ohio client savings | $19,066.43 |
Real Stories of Ohio Clients
A single mother of one child from Cincinnati Ohio called us. Her income is only hers and she does not receive any child support. The client stated that due to the current economy and the cost of living continuing to rise she has found that she is beginning to experience problems making her credit card payments. After going through all of the information relating to the program, I was able to get the client a much lower monthly payment, $233.00 less than what she is what she was paying, the client also saved by decreasing the amount of interest as well as the length of time in paying the accounts off. The client was so excited that she immediately completed the paper work to get the program going.
After speaking with a woman who lives in Olmstead Township, Ohio and reviewing her financial hardship due to her loss of a second income of over $2,000 a month via her husbands job loss this year. She has fallen behind on two cards so far and is in danger on the rest, to help her not fall behind any further and get back on track. I have sent her a solution by lowering her monthly payment, stopping late fees moving forward, lowering interest rate percentage. By enrolling in our debt management program, she will stay on track from this unsecured debt totaling over $13,000. This will help payoff responsibly and will be debt free in less then 4 years with a savings of over $11,000!
Learn More about Our Debt Consolidation and Credit Counseling Services in:
From: Ohio Revised Code Title 47 Occupations – Professions
Chapter 4710: DEBT POOLING COMPANIES
4710.01 Debt pooling company definitions.
As used in this chapter:
(A) "Person" includes individuals, partnerships, associations, corporations, trusts, and other legal entities.
(B) "Debt adjusting" means doing business in debt adjusting, budget counseling, debt management, or debt pooling service, or holding oneself out, by words of similar import, as providing services to debtors in the management of their debts, to do either of the following:
(1) To effect the adjustment, compromise, or discharge of any account, note, or other indebtedness of the debtor;
(2) To receive from the debtor and disburse to the debtor's creditors any money or other thing of value.
(C) "Resides" means to live in a particular place on a temporary or a permanent basis.