See How Much Money We Can Save You!
Credit Counseling and Debt Consolidation in North Dakota
Clients We've helped in North Dakota
No Rows Returned for SQL select TOP 10 city, savings from client_savings_demographics where state = 'nd' and savings > 100 ORDER BY NEWID()
We can help you get out of debt in North Dakota. Call us at 1-800-589-1643 to find out how!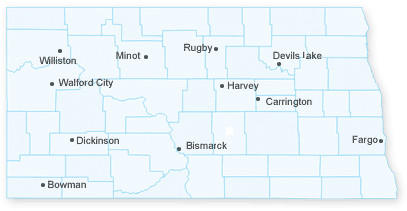 Get Compassionate Debt Relief
Regardless of the financial troubles that you may be facing, CreditGUARD offers a portfolio of compassionate North Dakota credit counseling and debt consolidation services. Whether you have just a few thousand dollars in outstanding unsecured debts or you're dealing with several times that amount, we will keep your best interests in mind while helping you get your finances back on track.
Discover the Benefits of North Dakota Credit Counseling
For over 20 years, our compassionate team of seasoned credit counselors has been helping people manage and reduce their debts. We pride ourselves on taking a long-term approach to debt. In addition to our powerful North Dakota debt consolidation services, we offer valuable credit counseling resources.
If you're struggling with mounting debt and need help crafting a workable budget, our expert credit counselors can provide you with loads of advice. We also offer practical tips on managing your credit use.

CreditGUARD Provides Multiple North Dakota Debt Consolidation Options
CreditGUARD's credit counseling team can also help you consolidate your debts. No matter how much you owe, you'll find friendly and affordable debt relief with us. In fact, our team will take your case even if you haven't made a debt payment in several billing cycles.
Our credit counselors can also consolidate your debts by negotiating directly with your creditors. We'll consolidate your existing debts into one affordable payment with a reduced interest rate. You'll need to make just one easy payment per month to remain current on your debts.
CreditGUARD can help you take control of your finances by reducing your unsecured debts, including your old credit cards and medical bills. Our friendly credit counselors can also provide meaningful budgeting and saving advice that can strengthen your finances for the long haul. Call us at 1-800-589-1643 for more information about debt consolidation in North Dakota.
North Dakota Statistics
A North Dakota Client's Story
A man who was unemployed for 7-8 months, started a new job 3 months ago, had consolidated all his credit card debt into a low interest card, which he had been paying at $350 mthly until he lost job Bismarck, North Dakota. He says he tried to negotiate a new arrangement with lower payments, but was not successful, and had to borrow $2,000.00 to send the creditor otherwise the account would be sent to collection. Now the creditor wants $2,000.00 monthly. He's making 25% of former salary, can't possibly make that kind payment as he only brings home $3100 each month. With his debt to income, we were able to obtain a $367 monthly payment which client said he definitely afford.
From: North Dakota Century Code Chapter 13-07 Consumer Credit Counseling Services
13-07-02. Consumer credit counseling service – Contract requirements.
Any agreement between a consumer credit counseling service and a debtor for counseling and assistance must be in writing and signed by both parties. The consumer credit counseling service shall give the debtor a copy of the signed agreement. The agreement must disclose the total amount that may be retained by the consumer credit counseling service if the contract is fully performed, the terms upon which the debtor may cancel the contract, and all debts that are to be managed by the counseling service, including the name of each creditor and the amount of each debt. A consumer credit counseling service may not enter an agreement with a debtor unless a thorough written budget analysis indicates that the debtor can reasonably meet the requirements of the financial adjustment plan and that the debtor will be benefited by the plan.