See How Much Money We Can Save You!
Credit Counseling and Debt Consolidation in New York
Clients We've helped in New York
A Jamaica, New York client saved an estimated $8,354.99
A Phelps, New York client saved an estimated $1,731.69
A Springfield Gardens, New York client saved an estimated $27,179.32
A Yonkers, New York client saved an estimated $6,142.35
A Glen Cove, New York client saved an estimated $7,664.80
A Bronx, New York client saved an estimated $10,402.79
A Highland, New York client saved an estimated $1,924.48
A Mount Vernon, New York client saved an estimated $14,624.09
A Brooklyn, New York client saved an estimated $9,258.21
A Mount Vernon, New York client saved an estimated $124,019.44
We can help you get out of debt in New York. Call us at 1-800-500-6489 to find out how!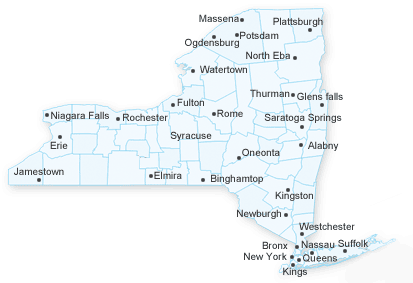 New York Credit Counseling Can Lend a Helping Hand
Falling into a deep hole of debt is easy, but climbing out is hard when you go it alone. At CreditGUARD of America, Inc., we're there when you need a helping hand. We understand how today's financial obligations can easily lead to mounting debt. Paying for medical insurance, car loans, mortgage payments, and all the incidentals that come along with life can quickly add up. Today, many people are stressed with their financial circumstances and either can't pay their bills or are soon to fall behind. When you add the uncertainty of a job position or loss of a job, it can be quite overwhelming. Our goal is to provide you with effective solutions for stress-free living. We'll work closely with you to devise a plan that eliminates debt from your life.
Our Programs and New York Debt Consolidation
Our debt consolidation program has provided credit card debt relief for many. Under this program, our expert financial counselors will work with your creditors to negotiate low monthly payments that you can afford with your personal income. All of your credit card bills will be combined together for one convenient payment. During negotiations with your creditors, our counselors will advocate for lower interest rates along with the removal of any penalty fees for non-payment. Keep in mind that our certified financial counselors will review all of your secured and unsecured debts to come up with the best solution for your individual financial circumstances.
Help is Here Today
From Buffalo to New York City, we are by your side during difficult financial times and will give you peace of mind. Whether you need credit counseling or a debt management plan, you'll find our experts have the know-how to help. If you'd like to learn more about debt consolidation in New York, you can call us at 1-800-500-6489 or fill out our online form. Our staff is always happy to help and you'll be treated with courtesy and respect. In addition, you're never under any obligation.
New York Statistics
| | |
| --- | --- |
| Average New York persons per household | 2.00 |
| Average New York client age | 46 |
| Average New York client annual income | $32,763.77 |
| Average New York client annual expenses | $28,637.84 |
| Average New York client total debt | $15,476.57 |
| Average New York client savings | $18,332.96 |
Real Stories of New York Clients
Our client living in Basom, New York owes $10,600 in unsecured debt. She lost her job, has a large reduction in income, and cannot get ahead and is now divorced. She has only one income – cannot pay all these balances and the monthly payments. She sees no way out of this debt doing the minimum payments. She was so thrilled with the program and looking to get out of this debt by saving $1200 per month and saving over $6800 in interest and be out of debt in 3 years, 7 months as opposed to 18 yrs.
RP from Hammondsport New York is an elderly lady on a fixed, Social Security income. She has 4 credit cards totaling approximately $3,400 in unsecured debt that she listed on our program. She is pleased with her lowered monthly payment is looking forward to being debt free in about 3 years so she can spend more on her grand-daughters!
A client that lives in Hudson New York was referred to our program by a friend. She is on a fixed income living pay check to pay check and had overextended lines of credit. She had started opening cards and using them to build her credit, which backfired on her since she is having a hard time paying down her accounts. Now she owes $6000 in credit card debt and her credit is not even good. She felt she will fall behind and with our program, we were able to set her up so she can make a lower monthly payment. We were able to save her $5,000 in interest and 12 years off the time, it would take her to pay the accounts on her own. She was very excited to start the program and happy she only had one payment a month to worry about.
Late Wednesday afternoon I received a phone call from two ladies, a mother and daughter pair, residing in Long Island, New York. They were both interested in the program, each having over $50,000 in credit card debt. The mother had approximately 6 credit cards, the highest with a balance being well over $25,000. The daughter, possesses approximately the same number of cards, her highest balance card having a matching balance of over $25,000. The mother is a retired schoolteacher with a disability that forced her to retire early, thereby reducing her expected pension amount. The daughter suffers from Crohns disease and is currently unemployed. Having such a disability has made searching for employment difficult. Thankfully, we were able to help both of these ladies with their budget, living expenses and a debt consolidation program that brought their payments to a reasonable number that they can afford.
A Worcester, New York client is retired and has been for the past 4 years now with the extra cost of living and high interest rates client had to get a part time job to keep up with her monthly bills. This client has several medical issues now that she developed about a year ago and can no longer continue to work her part time job – she is going to fall behind next month and needs assistance to pay these credit cards off. Her credit card debt is $6900.
From: Laws of New York – Banking – Article 12-C-Budget Planners
"No person, partnership, association, corporation, or other entity, except a licensee, may make any representation, directly or indirectly, orally or in writing that he, she, or it is licensed under this article.
No person or any other entity, other than a licensee, shall use the title "budget planner" or "licensed budget planner" or the term "budget planning" in any public advertisement, business card, or letterhead."
Learn More about Our Debt Consolidation and Credit Counseling Services in: