See How Much Money We Can Save You!
Credit Counseling and Debt Consolidation in New Jersey

Clients We've helped in New Jersey
A Paterson, New Jersey client saved an estimated $7,647.64
A Metuchen, New Jersey client saved an estimated $47,213.59
A Paramus, New Jersey client saved an estimated $13,499.93
A Swedesboro, New Jersey client saved an estimated $11,393.48
A Newark, New Jersey client saved an estimated $14,646.39
A Clifton, New Jersey client saved an estimated $2,676.83
A Stanhope, New Jersey client saved an estimated $32,618.26
A Bayville, New Jersey client saved an estimated $7,076.63
A Oceanport, New Jersey client saved an estimated $6,328.16
A Elizabeth, New Jersey client saved an estimated $9,557.17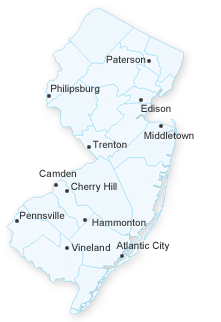 New Jersey Credit Counseling and Non Profit Debt Consolidation
The Top 3 Reasons to Choose CreditGUARD Debt Consolidation in New Jersey
Consolidating your debts into one easy payment with CreditGUARD of America, Inc. is the first step to achieving freedom from your financial woes. Debt consolidation is an effective strategy for many reasons:
Smaller debt load – CreditGUARD will negotiate to lower your interest rate so that your payments are more manageable. With us, there's no more being set up to fail.
One easy payment – Having too many creditor accounts is stressful. With debt consolidation from CreditGUARD, you put all of your debts into one easily manageable account. No more accidentally forgetting about one of your loans or credit lines!
Service professionals on your side – When you consolidate your payments through CreditGUARD, you no longer have to worry about receiving harassing collection calls. Our compassionate debt counselors are on your side and encourage you to succeed in taking care of your financial issues once and for all.
New Jersey Credit Counseling: The Tools You Need to Stay Financially Secure
In addition to making your debt more manageable through New Jersey debt consolidation services, CreditGUARD provides credit counseling services. This service provides the knowledge and resources you need to stay out of debt. Our expert credit counselors will help you devise a budget, oversee your finances, and develop a long-term plan to ensure you and your family's financial stability for many years to come.
Eliminate the Stress in Your Life with New Jersey Debt Consolidation
Often, debt is unavoidable. Whether you face layoffs, a costly medical bill or an expanding family, outstanding debts can slowly arise. At CreditGUARD, we understand that families struggling to pay off their debts need assistance, which is why we offer New Jersey credit counseling and debt consolidation services. Through our tools and advice, you can finally achieve financial freedom. For more information, give us a call at 1-800-589-1643 today!
Real CreditGUARD Success Stories from the Garden State
One of our Atlantic City clients has a total debt of $5,500.00. He and his wife both lost their jobs, and he is the only one getting unemployment. With our program, his monthly payment will decrease by $98.00, the interest savings will be $15,478.24 and the length of time it will take to pay off the account will decrease by 42 years and three months.
After suffering a difficult loss of income, a Beachwood client came to us behind on her debt payments, worried she might never get ahead. She enrolled in our debt management program, and we were able to lower her monthly debt payment by $154 per month. Her new payment was $343, and she'll be debt free in 5 years and six months, paying off a total debt of $16,319 and savings of $19,892.
With our help, one of our Lakewood clients will save over $17,000 in interest. She came to us after being treated for cancer. Behind on her medical and credit card bills, she was facing a serious financial hardship. With CreditGUARD at her side, she's now on the path to freedom from debt.
A client from Matawan, New Jersey has ten past due credit cards totaling to a debt of $69,755. We were able to decrease the monthly payment by nearly $300, reduce the interest amount by 117,096.95, and reduce the length of time paying the account off by 45 years and ten months.
An elderly client in New Brunswick living on Social Security was ready to file bankruptcy. Recently her car broke down which cost her thousands of dollars to fix. She used her credit cards to afford the repairs, and that put her in debt for about $6,700. After carefully reviewing her budget, we were able to qualify her for our debt management program so she can get out of debt in about five years instead of 47 years and in turn, she will save over $17,000 in interest.
A Vineland man recently enrolled in our debt management program. Fresh off a breakup and needing to provide for his four children, he faced a loss of household income and could not afford his monthly debt payments. With our help, he's paying off his debt at a lower monthly payment amount and saving on interest.
How Much Could You Save With CreditGUARD?
Every case is unique. While we can't say exactly how much you'll save in interest, take a look at how much we saved other New Jersey clients!
A Metuchen, New Jersey client saved an estimated $41,877.62
A Dover, New Jersey client saved an estimated $37,797.80
A Ewing, New Jersey client saved an estimated $35,560.25
A Budd Lake, New Jersey client saved an estimated $18,898.44
A Hackensack, New Jersey client saved an estimated $12,339.96
A Vineland, New Jersey client saved an estimated $15,142.46
A Barnegat, New Jersey client saved an estimated $22,543.01
A Belleville, New Jersey client saved an estimated $1,411.17
A Wall Township, New Jersey client saved an estimated $10,613.06
A Weehawken, New Jersey client saved an estimated $69,053.94