See How Much Money We Can Save You!
Credit Counseling and Debt Consolidation in Nevada
Clients We've helped in Nevada
No Rows Returned for SQL select TOP 10 city, savings from client_savings_demographics where state = 'nv' and savings > 100 ORDER BY NEWID()
We can help you get out of debt in Nevada. Call us at 1-800-589-1643 to find out how!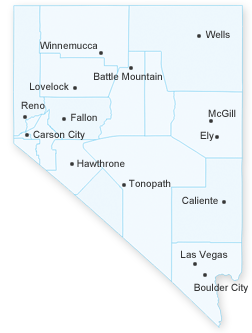 Eliminate Debt with Debt Consolidation in Nevada
When it comes to consolidating your debt, it is best to go with CreditGUARD of America, Inc. Not only do we offer professional debt management services, but we also provide credit counseling as part of the package.
Receiving debt consolidation at a reduced interest rate means you can consolidate your debts into one affordable monthly payment. This allows you to track your money more easily. With our debt consolidation services, you no longer have to worry about annoying calls from bill collectors. Debt consolidation at CreditGUARD is a stress-free debt repayment option.
How Nevada Credit Counseling Can Restore Your Credit
From Las Vegas to Reno, if you're seeking credit counseling in your area, CreditGUARD is your solution. With over 20 years of experience, our trained professionals can help you succeed going forward. Credit counseling consists of education in how to budget, how to track finances, and how to look toward the future when thinking about your money. Before you know it, you will be debt-free with great credit and a financial mindset.
How CreditGUARD Can Give You Peace of Mind
Don't let debt consume your life. With CreditGUARD, you can organize your debts to make them easier to manage. You can learn the skills you need to keep yourself from going down the path of debt. Finally, you can get the support you need to get through the trying emotional time of paying down debt and getting your life back on track. Get peace of mind today and call us at 1-800-589-1643 right away.
Nevada Statistics
A Nevada Client's Story
An elderly female 68 yrs old, living alone on disability Social Security Income, falling behind, trying to sell her home in Reno, Nevada that lost 49% of it's value, on fixed income, needs help desperately, was referred by another client who is already in our program. I did a debt to income analysis, listed her creditors, and determined that she needs us to get special hardship concessions from her creditors to make ends meet. We were able to help this woman with even this most difficult of situations.
From: CHAPTER 676A – UNIFORM DEBT-MANAGEMENT SERVICES ACT
NRS 676A.110 "Credit counseling" defined. "Credit counseling" means providing education and assistance to an individual concerning debts owed by the individual which may include, without limitation, the development and implementation of a debt management plan.
NRS 676A.260 "Trust account" defined. "Trust account" means an account held by a provider that is:
1. Established in an insured bank;
2. Separate from other accounts of the provider or its designee;
3. Designated as a trust account or other account designated to indicate that the money in the account is not the money of the provider or its designee; and
Used to hold money of one or more individuals for disbursement to creditors of the individuals
Learn More about Our Debt Consolidation and Credit Counseling Services in: