See How Much Money We Can Save You!
Credit Counseling and Debt Consolidation in Nebraska
Clients We've helped in Nebraska
No Rows Returned for SQL select TOP 10 city, savings from client_savings_demographics where state = 'ne' and savings > 100 ORDER BY NEWID()
We can help you get out of debt in Nebraska. Call us at 1-800-589-1643 to find out how!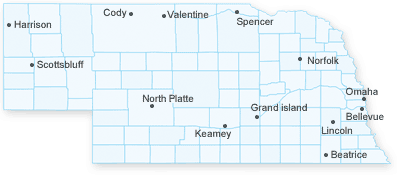 Nebraska Credit Counseling is for Everyone
Debt consolidation in Nebraska is not only for people struggling to make ends meet. Our turbulent economy has affected everyone, and Nebraska debt consolidation and credit counseling services can help people of all economic lifestyles. Whether you need help managing your mounting debt or simply want to learn how to balance your budget, CreditGUARD of America, Inc. has the answers you need.
How Credit and Debt Counseling Can Benefit You Today
CreditGUARD recognizes the value behind Nebraska credit counseling and debt management services. If your finances are in need of a fresh start, you're eligible for thorough and unbiased credit counseling. Get help with your mounting debt with a personalized budget from CreditGUARD's experienced staff.
Credit cards and loans have a place, but it's easy to get swamped by them. At CreditGUARD, debt consolidation means combining your multiple debts into one affordable payment at a reduced interest rate. As a result, you'll find it easier to get out of debt more quickly.
Get Help with a Goal of Credit Health
Buying a home or a car gets more difficult when your credit report isn't perfect. Even if you are managing your debts well, you can still profit from expert debt counseling with an eye on improving your overall credit rating. Discuss your financial goals with an experienced CreditGUARD counselor.
You don't have to be in financial distress to qualify for debt counseling. You may simply be wondering if you are on the right track with your money management skills. If you're uncertain whether you are handling your finances to the fullest advantage, our counselors can examine your accounts and give you the verification you need.
Contact us at 1-800-589-1643 to find out what type of Nebraska credit counseling and debt services are best for you. Discover how CreditGUARD of America, Inc. can take the stress out of money management.
Nebraska Statistics
A Nebraska Client's Story
I spoke with a client who was transferred from her creditor she is in debt with $7009. The client who resides in Omaha, Nebraska said she has been making payments and the balance is not going down. She is 83 years old and wants to get this creditor paid off ASAP as she may not live too long she did not want her son to have to pay it if she is no longer here. She is living off social security benefits. I was able to get her onto the debt management program so she can get the account paid off faster.

Learn More about Our Debt Consolidation and Credit Counseling Services in:
From Nebraska Debt Management Statutes.
Neb. Rev. Stat. § 69-1212. Licensee; debtor; fee; agreement; limitations.
The fee of the licensee to be charged the debtor shall be agreed upon in advance and stated in the contract and provision for settlement in case of cancellation or prepayment shall be clearly stated in the contract. The total fee to be charged by the licensee shall not be more than fifteen percent of the amount of money agreed to be paid through the licensee. Fees shall be amortized over the length of the contract and no more than the monthly amortized amount may be applied to charges while the contract is in full force and effect, except that the licensee may require an initial payment by the debtor of an amount not to exceed twenty-five dollars which shall be credited to the total fee to be charged. In the event of cancellation, the licensee shall be entitled to receive not more than twenty-five percent of the remaining unamortized fee agreed upon in the contract. No licensee shall be entitled to any fee or charge against the debtor upon any contract until the debt management program is arranged and approved by the debtor. A contract shall not be effective until a debtor has made a payment to the licensee for distribution to his creditors.