See How Much Money We Can Save You!
Credit Counseling and Debt Consolidation in Michigan
Clients We've helped in Michigan No Rows Returned for SQL select TOP 10 city, savings from client_savings_demographics where state = 'mi' and savings > 100 ORDER BY NEWID()
We can help you get out of debt in Michigan. Call us at 1-800-589-1643 to find out how!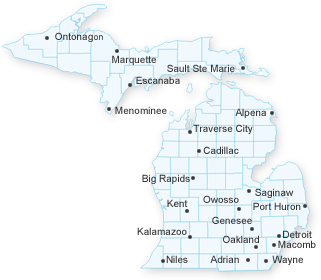 Benefits of Credit Counseling and Debt Consolidation in Michigan
What do credit counseling and debt consolidation have in common? They're the two major parts of CreditGUARD's plan to get you on the path to debt freedom.
Credit counseling gives you the processes, tools, and emotional support you need to handle your debts and achieve financial security. On the other hand, debt consolidation turns many different debt accounts into one easy payment, reducing the interest rate in the process.
CreditGUARD provides both of these services to help you reduce your debt. We understand that debt happens because of unexpected circumstances: a layoff, a car wreck, a natural disaster, unexpected medical bills, and more. With CreditGUARD, you can make your debts more manageable, improve your financial skills, and set yourself on track to achieve your goals.
CreditGUARD and Michigan Credit Counseling Tools
Michigan credit counseling offered by CreditGUARD of America, Inc. is twofold. First, there is the life coach aspect of counseling. This involves positive encouragement and practical solutions to help you stay on the path to debt freedom. The second is the learning aspect. You can learn about the importance of a budget as well as methods to track your expenditures dollar by dollar so they don't get out of hand.
How Michigan Debt Consolidation Can Change Your Life
Once you get credit counseling, you can move forward with your life. You don't have to worry about financial issues getting in the way of your dreams.
Credit counseling at CreditGUARD of America, Inc. aims to change your debt situation. Debt consolidation ensures that your credit payments are affordable. With our credit counseling, you learn effective ways to maintain a strong financial foundation and get out of debt quickly. You also get the intangible benefits of sharing your story with a compassionate listener who will help you through the emotional and practical difficulties that come from debt or credit problems. Don't delay any longer. Call us at 1-800-589-1643 today.
Michigan Statistics
Real Stories of Michigan Clients
A woman from Detroit, Michigan was just watching television and saw our ad. She called and said that she needs some help that she is falling behind on her payments. They increased her rent and that caused her to also be overdrawn on her bank account. She is living on social security benefits, is limited on her spending and looking for lower monthly payments. We were able to get the help that she was looking for and she is very pleased with it. She qualified for the debt management program to help payoff her total balance of $5,160.00
I talked with a client from Grosse Point, Michigan. who was transferred to us by her creditor because she needed debt help for their account and others. Her situation is that she is only on a fixed income, and if it were not for some stocks and annuities she would not be able to keep up with the payments and interest on the account. Even now, the interest is still too high and she is not making any progress on the cards. She can join our program, get her payments down $120 per month and also be paid off in less than 4 years on the accounts. She is anxious to start as soon as possible, this program will help her stay on track with her current payments, but dramatically reduce her payoff time and she will receive much more help in interest savings.
From: Michigan DEBT MANAGEMENT ACT – Act 148 of 1975
451.422 Budget analysis.
Sec. 12. (1) A licensee may enter into a contract or agreement to provide debt management services to a debtor only if the licensee has conducted a written and thorough budget analysis of the debtor and made a determination, based on the analysis of the information provided by the debtor or otherwise available to the licensee, that a debt management plan is a suitable solution for the debtor and that the debtor will be able to meet the payment obligations under the plan. If the licensee determines that a plan is suitable for a debtor whose current monthly expense and debt payments exceed the debtor's net income, the licensee must establish a written plan outlining how the debtor will meet the payment obligations under the plan before entering into a contract or agreement to provide debt management services to the debtor.
Michigan License # DM 0016985