See How Much Money We Can Save You!
Credit Counseling and Debt Consolidation in Massachusetts
Clients We've helped in Massachusetts No Rows Returned for SQL select TOP 10 city, savings from client_savings_demographics where state = 'ma' and savings > 100 ORDER BY NEWID()
We can help you get out of debt in Massachusetts. Call us at 1-800-589-1643 to find out how!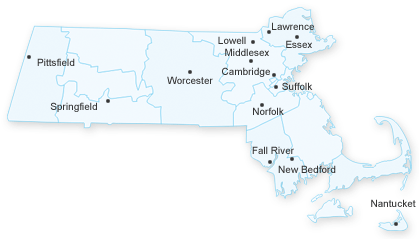 CreditGUARD: Consolidating Debt for Over 20 Years
In the face of a lingering economic downturn, millions of American families struggle with debt. These days, debt can strike even the most cautious and responsible borrowers. If you're worried about your economic future, CreditGUARD of America, Inc. can help.
CreditGUARD of America: Working Hard for Working Americans
For over 20 years, CreditGUARD has provided Massachusetts credit counseling services for everyday families. As a nonprofit credit counseling organization, we can do the same for you. From providing helpful financing tips for first-time home buyers to helping cash-strapped families craft long-term household budgets, our experienced credit counselors can satisfy a broad range of financial needs. Our experienced credit counselors provide you with the right assistance needed to secure your financial future.
CreditGUARD: Your Source for Debt Consolidation in Massachusetts

Our credit counselors also specialize in providing quick, painless Massachusetts debt consolidation services. Even if you've missed a few credit card payments or owe a considerable sum to your unsecured creditors, you'll be eligible for debt consolidation with CreditGUARD.
Once you're enrolled in our program, your credit counselors will negotiate lower interest rates on your unsecured debts. CreditGUARD will then roll all of your obligations into a single payment plan. This payment plan will carry a reduced interest rate and require just one payment per month. All of your unsecured debts, including credit cards and medical bills, are eligible for consolidation.
For more information about Massachusetts credit counseling from CreditGUARD, call 1-800-589-1643 or complete the online contact form today.
Massachusetts Statistics
Real Stories of Massachusetts Clients
GC from Mattapan, Massachusetts was trying to send her 81-year-old mother back to Trinidad before she passed away because those were her wishes to go back home to her birthplace but she did not make it. Her mother passed away and she used the credit card to help with expenses for her mom's funeral. She had to take time off work and she struggled with her bills. She has been juggling each month to stay on track. Client has $7,000 in credit card debt and she will be out of debt in 3 years and 11 months instead of 16 years and 2 months.
A client called from New Bedford, Massachusetts with over 14,000 in credit card debt. She had been a victim of identity theft, so she was a little skeptical about giving us account numbers and other sensitive information. I worked with her and gave her several places to verify the credibility of Creditguard's program. Finally, we were able to complete an application and save her $26 per month and over $22,000 in interest and fees.
After speaking with a man who lives in Pittsfield, Massachusetts and reviewing his financial hardship of being 100% disabled and living with his parents who are also supporting their grandson. He is close to his limit and is in danger on falling behind. To help him not fall behind or go over his limit and stay back on track. I have sent him a solution by lowering his monthly payment, lowering his interest rate percentage. By enrolling in our debt management program, he will stay on track from this unsecured debt totaling over $2,000. This will help payoff responsibly and will be debt free in less then 3 years with a savings of over $1,600!
I received a call from a financially stressed gentleman in Sheffield, Massachusetts. He has $7500 debt on two credit cards. One is maxed out and the other is over the limit accumulating over the limit penalties monthly. He called the creditors and was told there was nothing they could do for him. When he called CreditGuard of America he thought he would hear the same thing. After going over his situation and budget, we were able to assist him. He now has one low monthly payment for both accounts and he will be saving approximately $12,789 in interest and fees. He said he will definitely be able to start sleeping again.
From: Massachusetts Consumer Affairs and Business Regulations 209 CMR 18.00: CONDUCT OF THE BUSINESS OF DEBT COLLECTORS AND LOAN SERVICERS
18:02 Definitions:
Debt collector means any person who uses an instrumentality of interstate commerce or the mails in any business the principal purpose of which is the collection of a debt, or who regularly collects or attempts to collect, directly or indirectly, a debt owed or due or asserted to be owed or due another. Notwithstanding the exclusion provided by clause (f), debt collector shall include a creditor who, in the process of collecting his own debt, uses any name other than his own which would indicate that a third person is collecting or attempting to collect the debt. Debt collector shall also include a person who uses an instrumentality of interstate commerce or the mails in a business the principal purpose of which is the enforcement of security interests. Debt collector shall not include:-
5. a nonprofit organization which, at the request of a consumer, performs bona fide consumer credit counseling and assists the consumer in the liquidation of debts by receiving payments from the consumer and distributing the amounts to creditors;