See How Much Money We Can Save You!
Credit Counseling and Debt Consolidation in Maine
Clients We've helped in Maine
A Milford, Maine client saved an estimated $49,564.89
A Falmouth, Maine client saved an estimated $5,312.55
A Hollis Center, Maine client saved an estimated $2,142.45
A Wells, Maine client saved an estimated $28,285.97
A Dedham, Maine client saved an estimated $21,961.07
A Pittsfield, Maine client saved an estimated $179.77
A Skowhegan, Maine client saved an estimated $6,648.03
A Scarborough, Maine client saved an estimated $2,462.54
A Kennebunk, Maine client saved an estimated $3,093.10
A Brownville, Maine client saved an estimated $10,590.10
We can help you get out of debt in Maine. Call us at 1-800-589-1643 to find out how!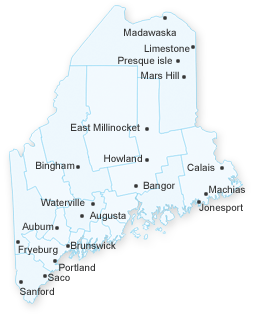 Achieve Debt Consolidation in Maine Today
CreditGUARD of America, Inc. has an effective 20-year-old debt consolidation model that starts with a single word: compassion. We understand that debt happens. Whether it's medical bills, foreclosures or unexpected job losses, sometimes overwhelming debt just builds up.
The best way to handle a mountain of debt is to achieve lowered monthly payments with Maine debt consolidation. CreditGUARD provides just that with affordable, low-interest payments that can encompass all of your credit and retail debts. You no longer have to worry about paying back a whole slew of creditors. We will work with you to achieve debt freedom once and for all.
Maine Credit Counseling with CreditGUARD
Nowhere is our service-oriented philosophy more on display than with our credit counselors. CreditGUARD's trained professionals will work with you to build a budget and construct a plan to pay down your debt quickly. You can receive coaching to get your finances in order, lessons on how to create and maintain a budget, and encouragement when the going gets rough. Through it all, CreditGUARD is there for you.
When you finally achieve debt freedom, you will do so armed with effective money management tools that help you tackle your dreams head-on. No matter how much debt you have or what your credit score is, CreditGUARD's counseling professionals will help you achieve your financial goals. If you are looking for peace of mind and help freeing yourself from debt, our combined credit counseling and debt consolidation in Maine will meet your needs.
CreditGUARD and Credit Guidance
Thousands of people just like you have gotten out of debt thanks to the expert guidance of CreditGUARD of America, Inc. With a philosophy based on compassion and service for everyone who finds themselves in debt, CreditGUARD believes in your future. We are committed to finding fast, workable solutions to all of your debt woes. If you believe that Maine debt consolidation and credit counseling is for you, call us today at 1-800-589-1643.
Maine Statistics
| | |
| --- | --- |
| Average Maine persons per household | 2.00 |
| Average Maine client age | 50 |
| Average Maine client annual income | $34,505.56 |
| Average Maine client annual expenses | $29,681.12 |
| Average Maine client total debt | $16,027.70 |
| Average Maine client savings | $21,544.59 |
A Maine Client's Story
A client I was able to help located in Skowhegan Maine was behind on payments due to loss of income. His wife lost her job and now he is the only one taking care of the entire household of five. They were using the credit cards to get by and now they were at their limits and could no longer afford to pay. They owed $9,500 in credit card debt and by enrolling them into the program; we were able to save them $10,000 in interest and fees. The program allowed them to afford their monthly household expenses and all credit card payments to relieve the stress of getting constant phone calls from the creditors as well as having them paid off sooner than trying to pay on their own. The client was extremely relieved of her debt situation, could not be more thankful for calling Credit Guard of America
From: Maine Statutes Title 32 Chapter 80-A Debt Management Services
§6174-A. Limits on fees and charges
1. Initial fee. A debt management service provider may charge to a consumer a reasonable one-time initial or set-up fee in an amount not to exceed $75.
2. Service fees. In addition to the fee set forth in subsection 1, a debt management service provider may assess either of the following fees: A. For a debt management service provider that distributes monthly payments to a consumer's creditor or creditors, a reasonable monthly fee not to exceed $40;