See How Much Money We Can Save You!
Find Debt Relief for Lexington, Kentucky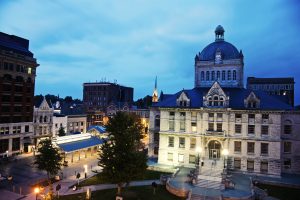 Credit Solutions for Lexington
With over 400 horse farms surrounding the metro area, Lexington is the Horse Capital of the World! The city's claim to this title is hard to dismiss. It is the first city not located in Europe to host the World Equestrian Games. Horse racing powerhouse Calumet Farm calls the region home. A reported 80,000 Lexington residents are either directly or indirectly involved in the Kentucky horse industry. Even with a booming horse industry, many Lexingtonians struggle with debt. If your financial situation is murky, let CreditGUARD help show you how to reduce your debt.
Fine debt relief now
As of May 2018, the unemployment rate in Lexington was 3.3% with around 9,000 residents out of work. The unemployment rate may be lower than the national average of 3.7%, but most residents make 14% less in hourly wages than  average Americans. As those living in the area know, home prices are high. The median price for a home is $193,000 and the median monthly rent is $1,200. These numbers put a strain on those living in the area.
You're not alone with your debt
Living with debt can ultimately take over your life. Between harassing phone calls from debt collectors, late debt payments, and overwhelming interest rates, it's easy to feel hopeless. You are not the only one. CreditGUARD understands the struggle. Many CreditGUARD clients have expressed similar feelings before reaching out. It only takes one quick call to begin your brighter financial future.  
A debt-free life is in the future
The road to a new financial situation can be difficult, but it doesn't mean it can't be fun. The city of Lexington offers many opportunities for you and your family to explore without deviating from your new path. One of Lexington's most famous past resident was Daniel Boone. Experience the city like a pioneer at Boone Station State Historic Site. Head over to Keeneland Thoroughbred Racing to see how the Lexington horse industry works. You may catch a peek of the morning practice routine or even an exciting auction.
Take the reins of your financial future
Reducing your debt is similar to horse training. It takes perseverance and patience, but with the right know how it's possible. CreditGUARD has the tools to help. Our certified credit counselors are ready to assist you in taking control of your debt through valuable financial education.  With our debt management program, you can turn unwieldy monthly payments into a single more manageable amount. Leave behind those harassing phone calls by debt collectors and let CreditGUARD help with your financial future.