See How Much Money We Can Save You!
Credit Counseling and Debt Consolidation in Kansas
Clients We've helped in Idaho
A Louisburg, Kansas client saved an estimated $15,927.18
A Kansas City, Kansas client saved an estimated $8,812.55
A Hutchinson, Kansas client saved an estimated $5,662.32
A Junction City, Kansas client saved an estimated $2,068.16
A Wichita, Kansas client saved an estimated $2,726.81
A Hesston, Kansas client saved an estimated $7,650.37
A Saint Marys, Kansas client saved an estimated $18,727.04
A Towanda, Kansas client saved an estimated $25,497.70
A Pratt, Kansas client saved an estimated $7,017.64
A Overland Park, Kansas client saved an estimated $41,671.26
We can help you get out of debt in Kansas. Call us at 1-800-589-1643 to find out how!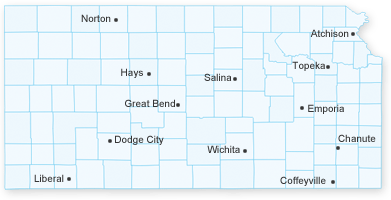 Guide to CreditGUARD Credit Counseling
If you're looking for Kansas credit counseling and debt consolidation, the best option is CreditGUARD of America, Inc. Our nonprofit organization empowers you to become financially independent. Our debt consolidation experts will consolidate your unsecured debt into one affordable monthly payment at a reduced interest rate.
CreditGUARD goes a step further by offering counseling services to support your efforts to become debt-free. This support is comprehensive and wide-ranging. It encompasses emotional support, practical coaching, and educational resources designed to give you all the tools you need.
How to Get Started with Kansas Debt Consolidation
Determine if CreditGUARD is right for you by discussing your situation with us. Throughout the program, you can track your progress as you pay down your debt. Your counselor will help you develop a complete plan to become debt-free and achieve important milestones along the way.
Achieve Debt Freedom
Debt doesn't have to feel scary. You can handle it with help. No matter how large or small your debt is, no matter what your financial background, credit counseling can improve your life. Whether you need help maintaining a budget or just a little bit of encouragement in your credit counseling process, we are here for you.
With each payment, you will get closer and closer to achieving your dreams for the future. If credit counseling sounds like something you need to take control of your debt, give us a call today at 1-800-589-1643.
Kansas Statistics
| | |
| --- | --- |
| Average Kansas persons per household | 2.00 |
| Average Kansas client age | 45 |
| Average Kansas client annual income | $32,043.36 |
| Average Kansas client annual expenses | $28,370.64 |
| Average Kansas client total debt | $14,334.64 |
| Average Kansas client savings | $18,350.06 |
A Kansas Client's Story
A woman from Wichita, Kansas, relied on credit cards to help her struggling daughter and grandchild rebuild their lives after her son-in-law walked out on the family. The client, a seventy-three year old woman on a fixed income, had wracked-up more than sixteen thousand dollars in credit card debt at annual percentage rates in excess of twenty-five percent. Struggling to make the minimum payments, she was beside herself about her situation. I assured her that we could help. After she calmed down, I reviewed her income and her expenses and consolidated her four credit cards into one monthly payment that saved her $63 per month. Her interest rates were lowered by more than fifty percent, and she will be out of debt in four years and one month.
From: Kansas Statutes Chapter 50 Unfair Trade and Consumer Protection
Article 11: Credit Services Organizations
50-1126: Same; fees charged by registrant; when allowed. (a) No registrant shall impose any fees or other charges on a consumer, or receive any funds or other payments from a consumer or another person on behalf of a consumer:
(1) Except as provided in paragraph (5) of subsection (b), until after the registrant and consumer have executed a debt management services agreement; and
(2) except as allowed under this section, or as permitted by rule and regulation adopted by the commissioner.
(b) A registrant may:
(1) Charge a one-time consultation fee not exceeding $50. The cost of a credit report on a consumer shall be paid from the consultation fee paid by the consumer;
(2) charge and collect monthly the lesser of a total maintenance fee of $20 per month, or $5 per month for each creditor of a consumer that is listed in the debt management services agreement between the registrant and the consumer;
Learn More about Our Debt Consolidation and Credit Counseling Services in: