See How Much Money We Can Save You!
Credit Counseling and Debt Consolidation in Iowa
Clients We've helped in Iowa No Rows Returned for SQL select TOP 10 city, savings from client_savings_demographics where state = 'ia' and savings > 100 ORDER BY NEWID()
We can help you get out of debt in Iowa. Call us at 1-800-589-1643 to find out how!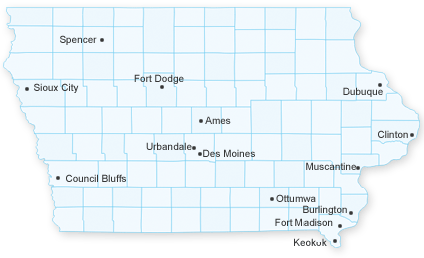 Is Debt Consolidation Right for You?
Iowa credit counseling services frequently focus on the consolidation of unsecured consumer debt. This process is highly effective for a number of borrowers, and you may benefit from it. CreditGUARD of America, Inc. is an expert in the credit counseling field and helps consumers just like you to overcome tough financial hurdles. If you are ready to let go of the constant worry, we can help you today.
Debt Consolidation in Iowa
Are you facing a mountain of credit card debt? You faithfully pay at least the minimum amount due each month. Yet, when you get next month's credit card statement, you see that of the $100 you sent to the creditor, only a small fraction paid down on the principal of the money you owe. Interest charges swallow up the lion's share of the payments you send in.
Iowa debt consolidation ends this vicious cycle. CreditGUARD specializes in the analysis of consumer debts. Experts will evaluate your income, expenses, and outstanding debts. Offering you fact-based, unbiased advice, our credit counselors give you options of how to get a handle on your debt. If the answer does include debt consolidation, our experts will help you get started on the process right away.
Putting Your Financial House in Order Starts Today
Call 1-800-589-1643 to discuss your budget and find out how to get out of debt. Discover the ins and outs of debt consolidation. After a careful analysis of your financial situation, discuss with our experts the processes that can put you on the road to financial recovery today. CreditGUARD offers hassle-free solutions to any debt problems that you face. Would it not be great to finally end the collection calls? Do so today with an easy phone call to our ready and waiting counselors.
Iowa Statistics
An Iowa Client's Story
Client contacted our office needing help with her credit cards which have got behind due to a death in her family and her son having been in the hospital and she had to take time off work which caused a decrease in her income. She lives in Des Moines, Iowa and owes $8618 this being 6 credit cards which she is behind with. I was able to get the client approved for our program, lowered the monthly payment amount, also saved the client $848 in interest and decreased the length of time of paying the accts off by 21 years and 9 months. The client was very pleased with what we were able to do for her, especially helping her get her credit under control and straightened out.
From: Iowa Code 533A Debt Management
533A.1 DEFINITIONS. As used in this chapter:
1. "Creditor" means a person who grants credit, a person who takes assignment of the rights to payments of a person who grants credit, or a person for whose benefit moneys are being collected and distributed by a licensee. 2. "Debt management" means, when done for a fee, any of the following: (a) Arranging or negotiating, or attempting to arrange or negotiate, the amount or terms of debt owed by a debtor to a creditor. (b) Receiving from a debtor, directly or indirectly, money or evidences thereof for the purposes of distributing the same to one or more creditors of the debtor in payment or partial payment of the debtor's obligations. (c) Serving as an intermediary between a debtor and one or more creditors of the debtor for the purpose of obtaining concessions from the creditors.