See How Much Money We Can Save You!
Credit Counseling and Debt Consolidation in Indiana
Clients We've helped in Indiana
A Bloomington, Indiana client saved an estimated $3,777.57
A Linton, Indiana client saved an estimated $11,512.36
A Lowell, Indiana client saved an estimated $38,619.71
A Crownpoint, Indiana client saved an estimated $9,228.65
A Warsaw, Indiana client saved an estimated $20,923.28
A Fillmore, Indiana client saved an estimated $26,070.71
A Marshall, Indiana client saved an estimated $8,869.51
A Kokomo, Indiana client saved an estimated $1,671.52
A Fort Wayne, Indiana client saved an estimated $17,159.51
A La Porte, Indiana client saved an estimated $17,717.19
We can help you get out of debt in Indiana. Call us at 1-800-589-1643 to find out how!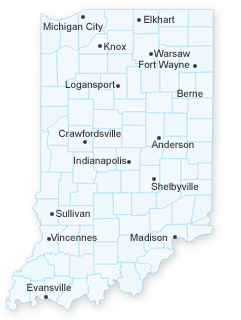 Make Ends Meet with Indiana Credit Counseling from CreditGUARD
Even if you're cautious with your money, you may not be immune to debt. If the uncertain economy has damaged your family's finances and forced you to take on extra debt to stay afloat, you're not alone. Millions of Americans are in the same position.
CreditGUARD of America specializes in fixing debt problems like yours. We are a respected nonprofit credit counseling agency that understands the pain that everyday consumers feel in this difficult economy. In fact, we pride ourselves on offering admission to virtually anyone who struggles with debt. No amount of debt or number of missed payments can disqualify you from using CreditGUARD's Indiana debt consolidation program.
Using Debt Consolidation in Indiana to Your Advantage
CreditGUARD's focused program of debt consolidation is easy to understand. First, our credit counselors will negotiate interest rate reductions with each of your unsecured creditors. Once that's done, we'll combine your debts into a single monthly payment with a reduced interest rate. In most cases, these repayment plans take just a few years to pay down completely.
Prepare for Your Future with CreditGUARD
We offer ongoing Indiana credit counseling services. Expert money management advice can help you budget for major expenditures like a new home or car. Our budget specialists will help you fit your new obligations into a responsible budget that won't push you back into debt. CreditGUARD's money management experts can even show you how to build up a savings cushion to prevent future shocks to your finances.
If you're looking for fast and efficient Indiana debt consolidation services, CreditGUARD can help. To take your first step to freedom from debt, call 1-800-589-1643 today or take a moment to fill out the online form. You'll be glad that you did.
Indiana Statistics
| | |
| --- | --- |
| Average Indiana persons per household | 2.32 |
| Average Indiana client age | 49 |
| Average Indiana client annual income | $30,661.15 |
| Average Indiana client annual expenses | $26,466.81 |
| Average Indiana client total debt | $14,195.12 |
| Average Indiana client savings | $17,162.75 |
Real Stories of Indiana Clients
After speaking with a man who lives in Ari, Indiana and reviewing his financial hardship due to loss income over $2000 a month and he tried to keep up with credit cards however fell behind over 2 months now. I have sent him a solution by getting rid of his late fees moving forward, lowering monthly payments, lowering percentage and stopping him from falling behind any further. By him enrolling he will get back on track from this unsecured debt totaling over $24000. This will help him payoff responsibly and be debt free in less then 4 years with a savings of over $25,000
I had spoken to a client from Evansville, Indiana who called in crying that she is drowning in credit card debt. I mentioned that we can help with medical bills and she was very happy that she can have all her accounts under one payment a month. She just gave birth to her first child and they have medical expenses due do to his illness. She was able to get onto the debt management program to help get out of her debt of $15,553.00
KP from Evansville, Indiana. had called us over a month ago to get help with her creditors. Since then she lost her job and is only working part time. She is unable to make her payments and is falling behind. Her income is not enough to cover all her expenses and she is in debt $8000. She was able to get help to payoff her creditors on Creditguard's debt management program.
P from Frankfort, Indiana started falling behind due to getting payday loans that he really could not afford. He has also maxed out on credit cards because he was using them for his household expenses. He has $2,900 in credit card debt with three credit cards. Client is approved for the debt management program and we are helping him get out of debt in 3 years and 7 months instead of 16 years and 6 months.
I assisted a client from Indianapolis, Indiana with her credit card debt. Her son called in to get some information, and felt that in order to get these accounts paid down she is going to need some help. They are barely able to make the payments on time each month, and then only the minimums. Even then, the payments only go towards finance charges and are not getting paid down. My client is on a fixed income, and cannot put additional money into the accounts to get them paid down faster. With our program, not only will her payments be less, but she will also be out of debt in only 4 years and 9 months. This program will have all $15,000 in credit card debt to a $0 balance in that time. Her son is a long time customer service representative, and said he has never spoken with anyone as customer oriented as us, and appreciates our concern and willingness to help his mother.
A client I was able to help located in La Fayette Indiana that was expecting a baby soon and would have to stop working to be on maternity leave. She had incurred a credit card debt over the past few months to gather supplies for her new baby, this caused her to become at her limits with the credit cards and her promotional rate was over so her minimum payments became much larger. Due to the decrease in income, she was expecting she wanted to set up onto a budget plan that would allow her to not fall behind on her credit card payments. By enrolling her into our program and working out a budget for her based on her new income, I was able to consolidate $11,000 in credit card debt for her and save her over $15,000 in interest fees. The client was extremely relieved of her debt situation, could not be more thankful for calling Credit Guard of America for help, and was happy she called us when she did.
From: IC 28-1-29 Chapter 29. Debt Management Companies
IC 28-1-29-7.7 Budget analysis and plan; written statement; disclosures
Sec. 7.7. (a) A licensee may not furnish debt management services
to a debtor unless: (1) the licensee has prepared a budget analysis; and (2) if the debtor is to make regular, periodic payments, the licensee: (A) has prepared a plan for the debtor; (B) has made a determination, based on the licensee's analysis of the information provided by the debtor and otherwise available to the licensee, that the plan is suitable for the debtor and the debtor will be able to meet the payment obligations under the plan; and
(C) Believes that each creditor of the debtor listed as a participating creditor in the plan will accept payment of the debtor's debts as provided in the plan.
Learn More about Our Debt Consolidation and Credit Counseling Services in: