See How Much Money We Can Save You!
Credit Counseling and Debt Consolidation in Illinois
Clients We've helped in Illinois
A Chicago, Illinois client saved an estimated $11,568.68
A Chicago, Illinois client saved an estimated $67,492.18
A Altamont, Illinois client saved an estimated $244.95
A Chicago, Illinois client saved an estimated $2,149.27
A Bridgeport, Illinois client saved an estimated $16,347.61
A Chicago, Illinois client saved an estimated $9,263.69
A Lincoln, Illinois client saved an estimated $1,575.23
A Bloomington, Illinois client saved an estimated $20,063.90
A Arlington Hgts, Illinois client saved an estimated $5,728.92
A Aurora, Illinois client saved an estimated $14,978.41
We can help you get out of debt in Illinois. Call us at 1-800-500-6489 to find out how!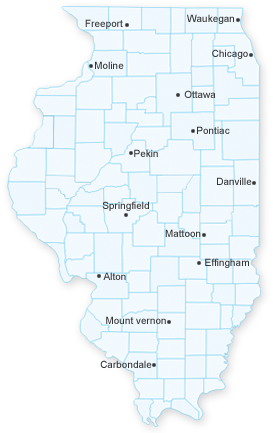 CreditGUARD of America: A Proven Authority for Illinois Debt Consolidation
These days, debt can strike anyone at any time. With the economy stuck in the doldrums and the price of everyday items increasing, it's easier than ever to become mired in debt. Luckily, you have a committed ally in the debt consolidation business.
CreditGUARD has been providing debt consolidation and credit counseling services for over 20 years. As a nonprofit company, we put our clients ahead of profits and maintain working relationships with hundreds of lenders around the country. We maintain an open-acceptance policy that welcomes anyone who struggles with debt. Whether you have a few stubborn credit card balances or mountains of debt, you'll be accepted into CreditGUARD's Illinois credit counseling program. You'll be accepted, even if you've missed payments in the past.
Build Stable Finances
When you become a CreditGUARD member, you'll receive the full suite of Illinois credit counseling services. Our experienced credit counselors will teach you how to save while managing ongoing debts like mortgages and auto loans. We'll also give you tips on paring back your household budget and creating a sustainable spending plan for your family.
Inside CreditGUARD's Illinios Debt Consolidation Plans

Once you're a CreditGUARD member, our credit counseling professionals will negotiate with your creditors to secure lower interest rates on each of your outstanding debts. They'll roll these obligations into a single debt that carries a lower, more affordable payment and interest rate. Instead of paying multiple bills each month, you'll owe just one monthly payment to CreditGUARD. You can consolidate all of your unsecured debts in this manner.
No matter how you choose to use our services, our friendly credit counselors and informative online resources will make your experience a breeze. To get started, complete the online form or dial 1-800-500-6489 to learn more about debt consolidation in Illinois today.
Illinois Statistics
| | |
| --- | --- |
| Average Illinois persons per household | 2.00 |
| Average Illinois client age | 45 |
| Average Illinois client annual income | $33,313.21 |
| Average Illinois client annual expenses | $29,105.05 |
| Average Illinois client total debt | $16,001.57 |
| Average Illinois client savings | $20,644.10 |
Real Stories of Illinois Clients
An elderly gentleman from Chicago Illinois and his wife are on a small fixed income. The client was approved for our debt management program. The total debt is $8,800.00, consisting of 2 credit cards. While we only reduced the monthly payment amount by $38.00, we saved the client $17,920.16 in interest and decreased the length of time paying the credit cards off by 34 years and 4 months.
I spoke with D from Urbana, Illinois. The client called in to get help with his credit card, he used $2100 over a year ago, making his payments each month and the balance is not going down. It actually went up to $2300 he cannot send them anymore towards the balance due to his is living on low social security benefits. The client's main concern is to get the account paid off as soon as possible. I was able to get client the help he was looking for by setting him up on the debt management program.
From: Illinois FINANCIAL REGULATION (205 ILCS 665/) Debt Management Service Act.
(205 ILCS 665/12) (from Ch. 17, par. 5312)
Sec. 12. Fees and charges of debt management service providers. A debt management service provider may not charge a debtor any fees or penalties except the following:
(1) an initial counseling fee not to exceed $50 per debtor counseled; and
(2) additional fees at the completion of the initial counseling services which shall not exceed $50 per month.
(Source: P.A. 96‑1420, eff. 8‑3‑10.)
Learn More about Our Debt Consolidation and Credit Counseling Services in: