See How Much Money We Can Save You!
Credit Counseling and Debt Consolidation in Georgia
Clients We've helped in Georgia
A Bonaire, Georgia client saved an estimated $23,134.71
A Rossville, Georgia client saved an estimated $27,417.09
A Tucker, Georgia client saved an estimated $39,380.53
A Commerce, Georgia client saved an estimated $1,582.80
A Buford, Georgia client saved an estimated $23,889.40
A Hazlehurst, Georgia client saved an estimated $5,248.81
A Rossville, Georgia client saved an estimated $102,288.88
A Resaca, Georgia client saved an estimated $42,515.10
A Dalton, Georgia client saved an estimated $46,176.40
A Stockbridge, Georgia client saved an estimated $8,273.10
We can help you get out of debt in Georgia. Call us at 1-800-500-6489 to find out how!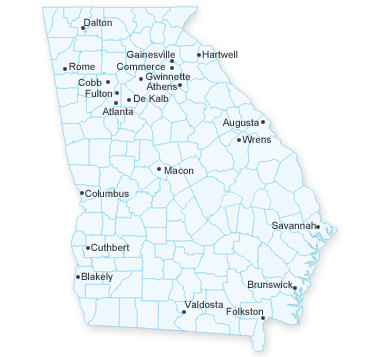 Action Plans for Georgia Credit Counseling
Whether you're in Atlanta or Savannah, if you're facing credit debt and falling behind on paying your bills, CreditGUARD of America, Inc. is here to get you out of red ink and into the black. Life can throw unexpected curveballs like the loss of a job position or an untimely illness. In addition, sometimes it can just be difficult to manage a budget. Whatever the reason, CreditGUARD has the expertise and surefire action plans to get you on the road to a debt-free life.
We have helped thousands of customers with real debt relief for over two decades. CreditGUARD can help you consolidate your credit card bills into one affordable payment without any legal complications, bankruptcy or late fees. We offer all the tools you need to succeed in reducing debt along with one-on-one personal financial credit counseling.
The Personal Touch of Georgia Debt Consolidation
With Georgia debt consolidation offered through CreditGUARD, you'll receive assistance from a certified financial counselor. Our counselors will review your individual situation and work closely with you to develop and implement a plan to alleviate debt. Our financial counselors are 100 percent committed to your financial wellbeing and will assist you with personal budgeting and debt consolidation. Our programs help you get out of debt within a few years instead, of 30 years, by consolidating unsecured debt into one easy payment. In addition to lowering monthly payments, our counselors will be able to eliminate late fees and lower the interest rates by negotiating with creditors. All around, our professionals have the know-how to get the job done.
Live Life Debt-Free
Living life debt-free is the best way to enjoy life and save for the future. You can start today by calling 1-800-500-6489 for debt consolidation in Georgia. Our financial counselors are on-hand to take your call and answer any questions that you may have. You'll find the financial counselors at CreditGUARD to be knowledgeable and helpful.
Georga Statistics
| | |
| --- | --- |
| Average Georgia persons per household | 2.00 |
| Average Georgia client age | 49 |
| Average Georgia client annual income | $30,497.59 |
| Average Georgia client annual expenses | $27,110.92 |
| Average Georgia client total debt | $12,660.00 |
| Average Georgia client savings | $15,941.10 |
Real Stories of Georgia Clients
I was able to set up a client into our program and assist with their debt situation. Located in Alpharetta Georgia, he had lost his job when the market crashed and was unemployed for three years. He had to liquidate his assets and his 401k plan in order to keep up with bills, and then he was hospitalized and incurred medical bills that he had to pay out of pocket. I was able to consolidate $6,000 in medical bills that he was behind on. By consolidating the debt, he was able to manage all his bills monthly and start paying off the medical bills so this way his credit would not be damaged. He was extremely grateful for our services.
After speaking with a man who lives in Columbus, Georgia and reviewing his financial hardship due to the loss of his job, he had to let his debt go and this has ruined his credit. This client needs our program to fix his credit and repay the balances he owes. I have sent him a solution by stopping anymore fees, collection phone calls moving forward, giving him a monthly payment he can afford that he could not get on his own directly.
By enrolling in our program, he will get back on track quickly from this delinquent debt totaling over $5.000. This will help payoff responsibly and he will be debt free in less then 21/2 years with a savings of over $2,500!
The client from Savannah Georgia is elderly and on a small fixed income. The total debt of $3,111.00 is created by 4 credit cards all of which she is severely behind. The client stated that she wants to get her credit straightened out rather than avoiding the fact that they are going into collections. The client also wants to get her credit straightened out. The client has been approved for our debt management program. We were able to reduce the amount of interest she will be paying by $2,661.88 and reduce the length of time paying these accounts off by 20 years and 7 months.
A client called in from Unadilla, Georgia. She is behind on her credit cards, and what got her there were many medical bills. Shed her husband both have skin cancer, and with all the treatments and driving to doctors, this put a huge strain on her finances. Fortunately, they are both clear from the cancer, but being 3 months behind on $4,000 worth of credit cards is costing her a lot in fees and penalties. Using our program, she will get back on track, discontinue the fees, and have these accounts paid off in less than 5 years, instead of falling behind further, and getting turned over to a collection agency. She will be even happier that the creditors will stop calling her while she is on the program, so she can relax and just focus on her and her husband's health.
From: Georgia Debt Adjustment Act, OCGA Title 18 Chapter 5 Georgia Code
§ 18-5-3.2. Timing of disbursements to appropriate creditors; trust account required
(a) Any person engaged in debt adjusting shall disburse to the appropriate creditors all funds received from a debtor, less any fees authorized by this chapter, within 30 days of receipt of such funds.
(b) Any person engaged in debt adjusting shall maintain a separate trust account for the receipt of any and all funds from debtors and the disbursement of such funds on behalf of debtors.
Learn More about Our Debt Consolidation and Credit Counseling Services in: