See How Much Money We Can Save You!
Credit Counseling and Debt Consolidation in Florida
Clients We've helped in Florida
A West Palm Beach, Florida client saved an estimated $3,364.99
A Fort Myers, Florida client saved an estimated $4,611.04
A Fort Lauderdale, Florida client saved an estimated $19,700.57
A Zephyrhills, Florida client saved an estimated $62,687.36
A Largo, Florida client saved an estimated $20,335.68
A Ocoee, Florida client saved an estimated $38,976.36
A Ormond Beach, Florida client saved an estimated $13,563.31
A Fort Lauderdale, Florida client saved an estimated $18,521.95
A Homestead, Florida client saved an estimated $11,369.20
A Belleview, Florida client saved an estimated $5,956.88
We can help you get out of debt in Florida. Call us at 1-800-500-6489 to find out how!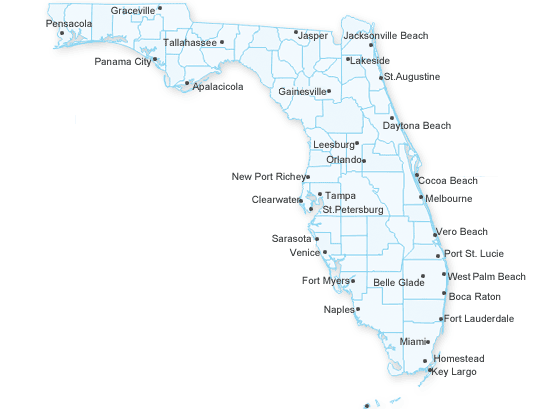 Life-Changing Florida Credit Counseling
Poor credit can happen to any one of us, and sometimes it may not even matter that we've managed money well all our lives. If you're facing financial struggles in Florida, CreditGUARD of America, Inc. can help. We will create a plan to get you out of debt quickly, with budgeting and saving tools to restore a future that's financially secure.
CreditGUARD is tailored for everyone with credit issues. If you're looking for more help managing a budget, Florida credit counseling services offered by CreditGUARD can assist you. Not only will our trusted credit counselors help you create a monthly budget, but they will also provide you with tips on how to save for the future. No matter your credit history, you'll gain peace of mind as your life gets back on track.
How Florida Debt Consolidation Can Lower Your Payments
The debt consolidation process consists of several aspects, including consolidating multiple debts into one affordable payment at a reduced interest rate. This enables you to make your payment on time without having to borrow money from a lender through a debt consolidation loan. Are you deep in debt? Have you missed a number of payments? At CreditGUARD, we make restoring your credit virtually hassle-free with our Florida credit counseling.
Receive Helpful Florida Credit Guidance
For over two decades, we have been providing people with credit counseling and debt management services. In addition to consolidating your debts, we will work with you to devise a budget focused on getting you out of debt for good. Your financial wellbeing is our top priority. When it comes to debt consolidation in Florida, we can provide you with the know-how needed to effectively manage your finances. Call us at 1-800-500-6489 to discuss your options for Florida debt consolidation, or complete our form for more information today!
Florida Statistics
| | |
| --- | --- |
| Average Florida persons per household | 2.00 |
| Average Florida client age | 50 |
| Average Florida client annual income | $33,529.92 |
| Average Florida client annual expenses | $29,351.98 |
| Average Florida client total debt | $16,050.65 |
| Average Florida client savings | $20,435.31 |
Real Stories of Florida Clients
A man called with a severe financial hardship due to loss of 2nd income over a year ago, who lives in Bostwick, Florida. He has been falling behind then catching up over and over again. We were able to reduce his fees and interest expense, and got him a monthly payment he can afford. He will get back on track quickly from this unsecured debt totaling over $13.000. This will help payoff his obligations and he will be debt free in less then 4 years with a savings of over $12,000!
I spoke with a client that lives in Ft. Lauderdale, Florida. They were calling because they needed help consolidating their credit cards. The client is approximately 2 months behind and owes over $12,000 in credit card debt. The customer is having financial difficulties because they lost their job a few months ago and now is working but is unable to catch up because of the high minimum payments and increase in interest rates. I was able to provide them a reduction in monthly payment, a reduction in interest, and other a few other benefits through our Debt Management Plan. In addition, I did a complete budget analysis to help them save money. The program should get them out of debt in approximate 4 years.
A client from Jacksonville, Florida contacted our office for our help; she is elderly and on a very small fixed income. The client states that she is behind with her payments and cannot seem to get caught up. She further stated that the creditors were calling her numerous times a day and this was really getting to her. After getting the info we needed, the client has 4 creditors and is behind with 3 of them and soon to be with the 4th the total amount of the debt is $2,440.00. Client was approved for our program, we were able to save her $1,108.82 in interest and have her debt free in 3 years instead of 14 years and 4 months. The client was so happy about this that she started crying. She kept singing our praises for what we were able to do for her.
A consumer called from Jupiter Florida with a total debt of $48,050.00 this being 6 credit cards. I was able to approve the client for our debt management program. The client's monthly payments decreased by $333.00 and we were able to save him $67,337.52 in interest as well as decrease the length of time paying the accounts off from 36 years and 3 months to 4 years and 3 months. The client was in a business that failed and he had used the credit cards to supplement the business. The client is not able to pay the minimum monthly payment and is falling behind. He was very pleased with all of the savings we were able to save him.
A Spring Hill, Florida woman maxed out her six credit cards helping her brother and mother with medical expenses. Her total debt came to $11,717 for which her total monthly payments came to $475. Adding to her precarious financial situation was the fact she had not received a raise in four years! She was struggling to make her minimum payments every month and saw no way out of debt without help. Through Creditguard of America's debt management program, I was able to lower her monthly payments to a total of $274. She will be debt free in four and one half years instead of nineteen years. She will save more than $11 thousand.
The client we signed up from Stuart, Florida was in dire need of help due to her medical situation (cancer plus other sicknesses) and she was begging for help and crying over the phone. I consoled her as best I could and advised her about our debt management program to help her alleviate some of the pressure in her life by helping her get out of her credit card and medical debt with our debt consolidation program. She will be out of her $45,000 in debt in 3.5 years and she was ecstatic about it. It was also helping her husband. She could not thank us enough times on how we helped her change her life with what little time she has left to live.
LC lives in Trenton Florida. She was laid off by her company downsizing and now only receives social security and a small pension. She has approx $11,000.00 in credit card debt. In our program her payment will be $347 a month and she will saving over $15,500 in interest and fees and have her accounts paid off in 3 years and 9 months. She is thrilled because she can afford this lower monthly payment and will finally be debt free!
Learn More about Our Debt Consolidation and Credit Counseling Services in:
From: Florida Statutes Title XLVI Crimes. Chapter 817 Fraudulent Practices, Part IV Credit Counseling Services
817.802 Unlawful fees and costs.—
(1)It is unlawful for any person, while engaging in debt management services or credit counseling services, to charge or accept from a debtor residing in this state, directly or indirectly, a fee or contribution greater than $50 for the initial setup or initial consultation. Subsequently, the person may not charge or accept a fee or contribution from a debtor residing in this state greater than $120 per year for additional consultations or, alternatively, if debt management services as defined in s. 817.801(4)(b) are provided, the person may charge the greater of 7.5 percent of the amount paid monthly by the debtor to the person or $35 per month.
(2)This section does not prohibit any person, while engaging in debt management or credit counseling services, from imposing upon and receiving from a debtor a reasonable and separate charge or fee for insufficient funds transactions.