See How Much Money We Can Save You!
Credit Counseling and Debt Consolidation in Arkansas
Clients We've helped in Arkansas
No Rows Returned for SQL select TOP 10 city, savings from client_savings_demographics where state = 'ar' and savings > 100 ORDER BY NEWID()
We can help you get out of debt in Arkansas. Call us at 1-800-589-1643 to find out how!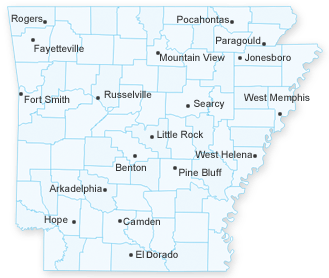 Don't Let Debt Get You Down: Choose Arkansas Credit Counseling

With today's tough economy and unstable job market, even the most conscientious can find themselves with credit problems. In the blink of an eye, you can lose your job and face a future of uncertainty. However, your life doesn't have to be over just because of your financial woes. If you're facing credit problems, CreditGUARD of America, Inc. can assist you on the road to financial recovery. We will develop a debt consolidation program tailored to meet your unique financial needs.
Our company's financial counselors will work closely with you to develop a budget for debt relief and even show you valuable strategies to save money. Receive money management strategies that actually get results. You won't have to borrow money to pay the bills or file bankruptcy. Our plans are straightforward and effective. The road to credit problems is typically long, but the road to financial recovery is short with CreditGUARD. In no time, life will be back to normal, and you can begin to plan for the future.
Get Results with Arkansas Debt Consolidation
Debt consolidation is a process that lumps all the creditor payments into one affordable monthly payment. Our financial counselors will negotiate with your creditors to assist in eliminating late payment penalties along with coming to an agreeable monthly payment that is doable with your current budget. Restoring your credit with Arkansas debt consolidation is stress-free and easy.
Expert Guidance for Debt Consolidation in Arkansas
For over 20 years, we have been successfully helping customers get their lives back on track. We have worked with hundreds of customers with all types of credit problems. If you need help managing your finances, call us at 1-800-589-1643. We will be more than happy to review all of the available options that they provide.
Arkansas Statistics
An Arkansas Client's Story
TM called in for help from Centerton, Arkansas. He is in debt of $16,170.00 His situation is that he was rooming with someone and he got kicked out, He had to find some where else to live and he had to come put of pocket with extra money he did not have. He is current but in danger of falling behind, he did not want that to happen so he called Creditguard for help. He was very pleased to find that with our budget help and the help of a debt management plan, he could payoff his debt in a short amount of time with a reasonable interest rate.
From: Arkansas Standard CGA Contract
Page 4
CGA requires a 5 business day notice for any SafePay changes to be made
CGA allows 8 days for client's SafePay debit funds to clear. Client's funds will be disbursed to creditor immediately upon clearing