See How Much Money We Can Save You!
Credit Counseling and Debt Consolidation in Alaska
Clients We've helped in Alaska
A Fairbanks, Alaska client saved an estimated $2,224.83
A Juneau, Alaska client saved an estimated $4,744.80
A Juneau, Alaska client saved an estimated $72,147.37
A Fayetteville, Alaska client saved an estimated $6,611.34
A Sitka, Alaska client saved an estimated $4,350.77
A Thornebay, Alaska client saved an estimated $33,920.80
A Wasilla, Alaska client saved an estimated $11,310.21
A Saint Paul Island, Alaska client saved an estimated $104,350.58
A Kasigluk, Alaska client saved an estimated $1,622.04
A Fort Wainewright, Alaska client saved an estimated $16,566.53
We can help you get out of debt in Alaska. Call us at 1-800-589-1643 to find out how!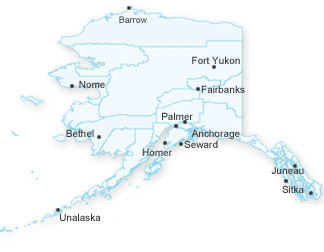 Improve Your Finances with Alaska Credit Counseling
If you're feeling overwhelmed by a reduced ability to pay your bills, consider CreditGUARD of America, Inc.'s debt relief program. Even if you have been diligent about paying creditors on time, you could still fall behind. If this has happened, rest assured we have tailored solutions to improve your finances.
Become Debt-Free with Alaska Debt Consolidation
Debt consolidation in Alaska is a way to work towards becoming debt-free. While many companies offer basic debt consolidation services, we help you restore a sense of balance in your personal finances. Our debt consultants create a custom plan so that you can avoid the burden of debt. This includes ways to change how you save and budget your income. Build a financial future filled with hope: We are a nonprofit organization that offers customized services for all consumers with poor credit. To manage cash effectively and shrink your total debt, get help from the people with over 20 years of experience. Don't let your credit score define you. Discover new confidence through our debt consolidation program.
With Alaska Debt Consolidation, Less is More!
Consolidating debt takes several steps: First, you roll multiple debts into one monthly payment, typically with a lower interest rate. With a lower monthly payment and only one payment to send, you will feel confident and secure. The experts at CreditGUARD also help stop the hassle of collection calls and negotiate with creditors to waive late fees. With us, it's easy to get Alaska credit counseling and focus on repayment.
In Alaska, we offer expert advice to take control of your outstanding debts. If you call 1-800-589-1643 today, you can speak one-on-one with a professional about Alaska debt consolidation, or complete a web form to get more details right now!
Alaska Statistics
| | |
| --- | --- |
| Average Alaska persons per household | 2.73 |
| Average Alaska client age | 48 |
| Average Alaska client annual income | $32,044.80 |
| Average Alaska client annual expenses | $27,842.80 |
| Average Alaska client total debt | $14,661.07 |
| Average Alaska client savings | $16,050.74 |
An Alaska Client's Story
Mr. A from Anchorage, Alaska is self employed and only works 6 months out of the year – he lives in Alaska and can only work during the spring/summer season and the entire winter he is shut down business wise and has absolutely no income during those 6 months. This clients brother moved in with him 8 months ago to help him pay for the basic monthly living expenses – mortgage, electric, gas etc. with the large amt of decrease in business these past couple of years the client can barely make ends meat and needs our assistance to pay his 4 creditors off – 3 credit cards and 1 personal loan – client fell behind several months ago, paid late fees and is late every other month since. He has $9320 in credit card and personal loan debt. With our debt management program he is saving $3,119 in interest and fee payments, will be debt free in 5 years, 10 months as opposed to 18 years, 10 months.
From: Alaska Standard CGA Contract
Page 4
7. Client authorizes CGA to send creditor notifications to each of the client's listed creditors bearing client's authorization for CGA to handle their debt consolidation and negotiate payments on client's behalf.
Learn More about Our Debt Consolidation and Credit Counseling Services in: