See How Much Money We Can Save You!
Find Debt Relief for Tuscaloosa, Alabama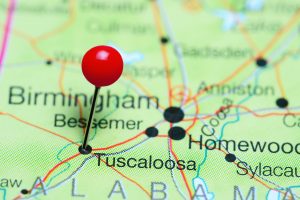 Credit Solutions for Tuscaloosa
Tuscaloosa is mostly known as the home of the incredibly successful University of Alabama football team, but the city offers more than just sports. In recent history, the Alabama city has become a prime location for the automotive industry containing factories for Mercedes-Benz US, Michelin Tires, and Lear Corporation. Even with financial growth, some Tuscaloosa residents may find themselves struggling with debt.  
Find Debt Relief Now
Tuscaloosa's unemployment rate is 3.9%, which is slightly above the national average of 3.7% according to the Bureau of Labor Statistics. The last seven years have not been easy for residents as unemployment rates hit a high of 10.2% during this time. Homeownership and rental in the area have become increasingly expensive. The median sales price for a home is $165,000, and the median monthly rental price is $1,200.
Don't tackle debt alone
Living with increasing debt is exhausting. Between accumulating late payments, harassing phone calls from debt collectors, and a plunging credit score,; it is easy to feel hopeless. CreditGUARD understands your struggle. Many current and past clients have expressed feeling similar emotions of depression. CreditGUARD wants to help. We can advise your financial situation transformation and alleviate some of your debt related stresses.
Begin your debt-free life
Starting your path towards a debt-free life doesn't have to be the start of a more boring one. Residents of Tuscaloosa have many options in their city without dipping into their bank account. One such activity is taking a stroll through Tannehill Ironworks Historical State Park. With multiple hiking trails, mountain biking trails, and Civil War reenactments,; there is always fun to be had at Tannehill. If you're a history buff, visit the Old Tavern Museum to catch a glimpse of 19th century Tuscaloosa.  
A new financial future awaits you
Your journey to a new financial future begins with CreditGUARD. Reducing your debt is made easier with the proper steps provided by our certified credit counselors. Add essential skills to your financial toolbox with our financial education. Our nonprofit debt management program can help turn multiple unwieldy monthly payments into a single more manageable payment. Leave harassing debt collectors and your debt stress behind. CreditGUARD is ready to help your financial situation today.