See How Much Money We Can Save You!
Find Debt Relief for Montgomery, AL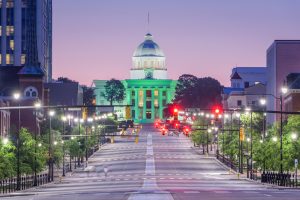 Credit Solutions for Montgomery

With just over 200,000 residents, Montgomery is Alabama's capital and fourth largest city. Often called the "Birthplace of the Civil Rights Movement," Montgomery boasts many historic landmarks and is a must visit for American history buffs. Maxwell Air Force base in Montgomery has been a hub for training US Air Force pilots since World War I.

Find Debt Relief Now

The Bureau of Labor Statics states Montgomery's unemployment sits at 3.5%, which is just below the national average of 3.9%. The average hourly wage in Montgomery is $19.93, 18% lower than the national average ($24.34). Home rental and sales prices in the area continue to rise with an average home rent of $875 and an average home price of $110,500.

Find help with your financial situation

Many Americans throughout the country are finding it difficult to stay on top of rising monthly debt payments, and Montgomery is not any different. As the situation develops, many find themselves in a life filled with late debt payments, harassing phone calls, and a general feeling of hopelessness. At CreditGUARD, we understand. Many clients have experienced similar situations before contacting CreditGUARD.

Live life without debt

Correcting your financial situations doesn't mean you can't have fun. Montgomery offers up many experiences that are not only enjoyable but also affordable. The "Moosuem" is an excellent kid-centric museum focused on teaching about the Alabama cattle industry. Country music lovers can visit famed musician Hank Williams' Memorial and take photos with a statue of his likeness located at the center of the Riverfront Entertainment District.

Turn around your debt situation

With the help of our certified credit counselors, CreditGUARD can show you the steps necessary to correct your debt. We offer financial education to clarify your current situation and take the right steps towards financial freedom. Our nonprofit debt management program can assist you with lowering debt payments by consolidating them into one more manageable payment. Stop the harassing calls and reclaim your life with CreditGUARD. Take the next step today!
Call CreditGUARD today to take the next step!