See How Much Money We Can Save You!
Get Out of Debt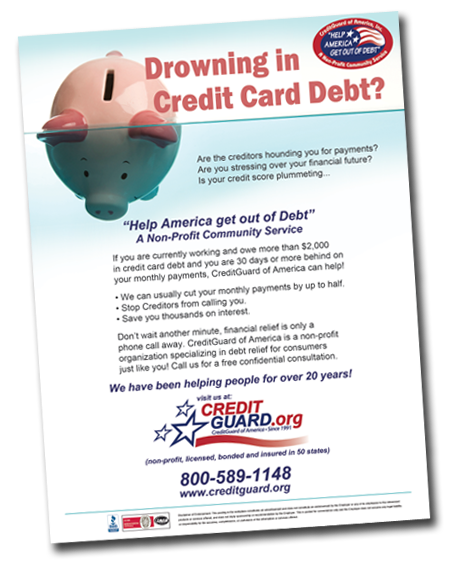 CreditGuard of America, a non-profit credit counseling agency, has been a trusted leader in the credit card debt relief and counseling industry since 1991, and has assisted hundreds of thousands of individuals seeking relief solutions of financial problems they cannot solve on their own.
Our get out of debt program involves complete analysis of client's financial situation, and tailored solutions based on unique debt issues, while providing them with financial freedom. We ensure that People of America will get long-term financial stability through our get out of debt program.
As a participating member of the community, we encourage you to join us and "Help America Get Out Of Debt." We are looking for your assistance to help us promote this program in your community, so that individuals will have a better understanding of the financial solutions that are available to them.
Our "Help America Get Out Of Debt" poster can be displayed in an area of your choice, a High Res PDF 8 ½" x 11" flyer may be downloaded and printed as handouts for those individuals seeking financial assistance or you can request additional quantities of Poster/flyers by clicking on the link below. (Posters and flyers are FREE).
For Printable Flyers Click Here
Contact us online or Call CreditGuard of America at 1-800-500-6489 for more information on our non-profit credit counseling and debt counseling agency. Certified Credit Counselors are available Monday - Thursday 8:00 am - 10:00 pm Eastern, Friday 8:00 am - 9:00 pm Eastern, Saturday 10:00 am - 6:00 pm Eastern. For online service, 24/7, use the Credit Card Debt Analyzer to calculate your estimated interest and payment savings available, through our debt management program.