See How Much Money We Can Save You!
Home Buying 101: Tips and Advice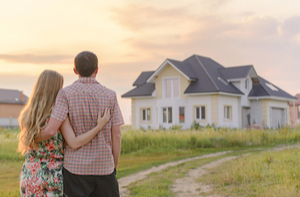 Buying a home is an exciting time — but it can be stressful if you're trying to buy a home with a lot of debt. There are many different financing options to choose from, and often the right mortgage depends on your financial standing.
That's why we've created a list of the 4 basic mortgage options to help you finance your perfect home.
1. Fixed-Rate Mortgage
A fixed-rate mortgage is the most popular type of mortgage for new home buyers. With a fixed-rate, your interest will stay the same for the life of your loan. Most lenders offer the convenience of 15-, 20- or 30-year terms to pay off the mortgage. Even though the payment is slightly higher on a fixed-rate mortgage, it is a popular choice among homeowners because the interest never changes.
2. Adjustable-Rate Mortgage
Unlike a fixed-rate mortgage, an adjustable-rate mortgage offers lower payments, but the interest will fluctuate with the current market rates. While this plan may sound like a good deal, be careful: if the market rates increase, so will your interest rate and monthly payment.
3. Nontraditional Mortgages
Nontraditional mortgages are designed for consumers with poor or no credit. These mortgages, which include interest-only and zero-down options, usually have higher interest rates. The better your credit score, the lower your interest rate. So if you're applying for a loan and do not like the interest rate being offered, you may want to consider improving your credit before financing a new home.
4. Special Financing Mortgages
Special financing mortgages are for home buyers who need extra help with their mortgage payment. To qualify for a special financing mortgage, you must have low to moderate income as well as special circumstances that would allow you to qualify. Contact your lender for more details.
Additional Lending Sources
Depending on your financial circumstances, employer, and personal background, additional lending sources may be available.
Employer-Assisted Housing (EAH) programs can be used toward your down payment or closing costs.

The Federal Housing Administration (FHA) offers loan programs for first-time homeowners as well as other types of lending assistance.

Rural Housing Services (RHS) provide financing to qualified homeowners for buying a home in a rural area. Check with the specific agency to get more details on their lending assistance programs.

The United States Department of Veterans Affairs (VA) also grants lending assistance to qualified veterans.
Refinancing Your Home
When you refinance a home, you are essentially paying off your existing mortgage and taking out a new mortgage.
Why do homeowners refinance their homes? Refinancing offers a variety of benefits, including:
Lower monthly payments

Lower interest rates (especially if your credit rating has improved over time)

The opportunity to change the loan type (moving from adjustable-rate mortgage to a fixed-rate mortgage, for example)
More Home Buying Info