See How Much Money We Can Save You!
Financial Guidance During a Military Deployment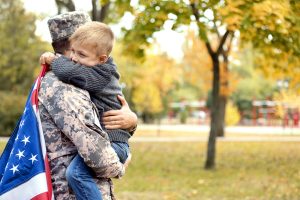 When you're called to active duty, there are a number of immediate concerns that flash into your mind: family, country, service, safety and security. You're doing good work, protecting what we hold dear. You're sacrificing your time at home with the people you love. You're traveling far from home to fulfill your duty. It's honorable, difficult and noble work that only a few are called to perform. Weighing against those other concerns, you want to make sure that your finances and credit remain secure.
CreditGUARD can help you with programs specialized for military personnel. Also, our experienced, trustworthy credit counselors can teach you best practices for money management and inform you of special protections you are entitled to by federal law while you are serving abroad, including these helpful hints.
Military Entitlements for Active Service Members
Active-duty service members from all branches of the U.S. military – Army, Navy, Air Force, Marines and U.S. Coast Guard – are eligible to have loans and credit cards capped at 6 percent interest. This protects debt incurred prior to deployment. To qualify, you should write your lender and provide a copy of your military orders.

You can legally break your lease without additional penalty when called to active duty. Evictions can also be prevented, in certain cases, if you have fallen behind on your rent.

Credit bureaus and your bank can use active-duty and deployment alerts to freeze your credit and monitor your account activity while you are away. This can help protect you from fraud or identity theft while you are serving. Also, establishing automatic payments and using online bill pay options can help you assure that you don't face late fees, service charges or other inconveniences. Pay allotment options are also available through the military, which would designate specific money toward certain expenses.

Budget plans are a useful tool, and they can help you save money – including bonuses you receive during active duty. If you maintain your regular, pre-deployment budget, it will make it easier to adjust once your finances return to normal upon your arrival home.

Discuss finances with your family throughout your deployment, and also contact a counselor regarding money management for a no-obligation consultation.
Circumstances are different for every service member and military family. Reduce your worry by planning ahead. Preparation, as you know, makes every mission easier.
Feeling the anxieties of debt on top of being deployed? Call us to learn more about our programs for military service members.
Make sure that when you return home, your financial health will be in ship-shape because you called CreditGUARD. Our certified counselors can help with military debt consolidation and will guide you toward the clearest path for a strong, secure future with financial education and money management tips. They can help you determine which choices are best for your situation and provide you with one-on-one credit counseling. Call CreditGUARD Today!