See How Much Money We Can Save You!
5 Thrifty Travel Tips | Vacation Budgeting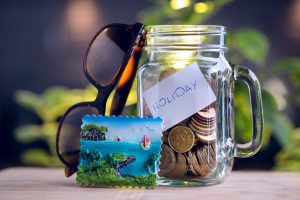 Explore Local
If you really want to do a vacation on a budget, the best way to save money is on your travel expenses. As a matter of fact, you can take a vacation and eliminate your expenses altogether by capitalizing on one of everyone's favorite buzzwords, the "staycation." Chances are, there are state or national parks within driving distance of your location. Does your area host events like concerts, art exhibits or seasonal markets? How about sporting events?
Stay-for-Free Options
You can get out of town and still have a good time on a shoestring budget! If you're keen on sharing space, you could pay a visit to family or friends, provided they've got room for you. There are more perks to seeing friends and family than the low ticket price. Your hosts are also your go-to resource, or concierge if you like. You can find out all the details about where to go and what to do from them. Bonus: you get to spend some quality time with the people that matter most.
Road Trips
Whether you're looking for day trips or the classic road trip, hopping in the car and heading in the opposite direction of home can be a great way to vacation for less. Beware, though! Gas, food and lodging can add up! Combine your road tripping agenda with some savvy strategies like camping, visiting friends and family or room sharing. Airbnb is also a great way to stay overnight for less.
Meals-Out Strategy
If you've got the ability to pack food for your trip, you can minimize how many meals you eat in restaurants. Meals are often second to lodging or transportation in terms of cost. By controlling your food cost, you can make your vacation budget go further. Consider eating out for breakfast or lunch instead of dinner. You'll get great portion sizes for (usually) a good deal less than dinner prices.
Cheap Thrills
National and local parks offer free or low admission prices. Across the country, there are often free festivals in neighborhoods large and small. Many cities have free museum admission on certain days and other free admissions to zoos or parks. If you've got a hobby, investing time in doing something you love doesn't have to break the bank. Spend some time writing or drawing. If you're more of a DIY fan, take on an inexpensive project around your home. Plan a camping trip, or camp out in your backyard and have a cookout.
If the thought of planning a vacation makes you feel worried about how you could possibly afford to take time off work, take a minute to go over your current financial situation. Are you behind on bills and debt payments? If so, you're not alone!
At CreditGUARD, we specialize in credit counseling and nonprofit debt management. Call us today to speak with a certified credit counselor and to learn more about how CreditGUARD can help you take back control of your financial situation!