See How Much Money We Can Save You!
Debt Relief Help and Solutions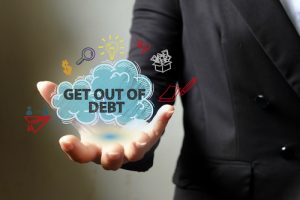 Credit card interest rates are higher than ever before, which is why more and more people are turning to reputable debt management agencies for help. Our nonprofit debt solutions help you achieve financial freedom by working with your creditors to stop collection calls, lower your interest rates, save you money and ultimately help you get back on track with your life.
Congratulations on taking the first step towards financial freedom! We've helped thousands of consumers get out of debt each year through our various debt management programs, and we can do the same for you.
Here at CreditGUARD of America, we offer a three-step approach to help you get out and stay out of debt. We help reduce your outstanding payments by consolidating your debts into one lesser, more manageable bill; we help reduce the total amount you owe and the time it takes to pay it off; and finally, we help you achieve financial freedom by working with you to create a budget that works for your needs.
Read on to learn more about what we do and how we can help you get the debt relief you need.
Debt Management at CreditGUARD
Our debt management program is designed to help reduce both your total amount of debt and the time it takes for you to successfully pay it off.
Our debt specialists work with your creditors to negotiate lower monthly payments and decrease or eliminate your credit card interest.
We can reduce your existing payments by up to 60 percent by consolidating your bills into a single monthly payment.
Depending on the creditor, we may also be able to get them to waive all your late fees, all your penalty fees, and work with them to help bring your accounts back to "current status" after three months.
Debt Consolidation at CreditGUARD
Debt consolidation is the process of taking all your unsecured debts and rolling them up into a single and more affordable monthly bill, which in turn makes the management and payment of all your various unsecured debts far more convenient.
In addition to having just a single bill every month, a consolidation plan may also help you manage your credit score because you'll be making regular, timely payments.
Not only that but under our guidance, most customers can pay off their debt within three to five years, as opposed to the national average of around 30 years.
CreditGUARD Credit Counseling
Credit counseling is a free debt solutions service provided by CreditGuard of America to help you better manage your finances.
A certified credit counselor will provide guidance, advice and resources to help you work toward building a budget that allows you to live within your means.
Credit counseling services can be broken down into two categories: for-profit and not-for-profit. It's important to keep in mind that some for-profit agencies tend to charge much higher fees and advise services that may not be in the customer's best interest. On the other hand, non-profit agencies like CreditGUARD charge lesser fees, are frequently able to waive or reduce fees, and also offer a variety of free debt solutions services, including money management advice and as many credit counseling sessions as you require.
CreditGUARD: A Credit Counseling Agency You Can Trust
For more than 25 years, we've helped thousands of people just like you get out of debt. In fact, we've helped consumers by paying out over $1.7 billion and counting to their creditors, saving them hard earned money by lowering their interest rates, and getting them a lower monthly payment that they can afford. Our nonprofit debt solutions help you get out of debt quicker and easier and help you remain debt-free.
Find Debt Help and Relief Now
Interested in learning more about how CreditGuard can help you? If so, we hope you'll give us a call at 1-800-500-6489 or fill out our form above for more information on our nonprofit credit counseling and debt counseling agency. Certified Credit Counselors are available Monday - Thursday 8:00 am - 10:00 pm Eastern, Friday 8:00 am - 9:00 pm Eastern, Saturday 10:00 am - 6:00 pm Eastern.